Quad Bike Bali and a quick guide for beginners
Quad Bike Bali and a quick guide for beginners – During your holiday in Bali, you can visit many unique and interesting tourist attractions. However, if you are a lover of extreme activities, it is not complete if you do not try to ride an ATV. Quad Bike Bali provides it all for you at an affordable price.
You can try to pass several tracks that have been determined according to your ability, such as tracks for beginners, semi-adventure, and professional adventure. ATV ride tracks generally pass through, rivers, rice fields, muddy tracks, up and down through steep roads. But in ours there are ATVs passing through tunnels and waterfalls
Before jumping into the real adventure, here is a complete explanation of safety from an ATV instructor. Your trip, which takes about 1.5-2 hours, will always be accompanied by a professional instructor, especially if you are a beginner.
Things to consider when riding an ATV Quad Bike Bali
Before riding an ATV Bali, you should pay attention to the following things. Although there is already a Bali Quad Bike guide, it never hurts to learn the Basic Rules first.
1. Use safety equipment
The Safety is the most important thing for all people engaged in extreme activities. Therefore, do not forget to wear safety equipment that is installed properly.
2. Knowledge of basic ATV riding techniques
Although you don't have to have the ability to drive a car or motorcycle, at least when using an ATV, you must know the basic techniques of driving an ATV. At the beginning, you will be given instructions on how to ride an ATV, as well as other warnings to keep you safe while driving.
3. Do not lower your feet to the ground while the ATV is running
It is dangerous if you lower your legs to the ground while the ATV is running. It is best to keep your feet on the ATV base so that your feet do not fall on the ground. Especially considering that the track on which the ATV passes is quite extreme.
To maintain balance, you can lean in the opposite direction to the ATV-like status. Suppose the ATV tilts to the right, then your body tilts to the left or vice versa.
4. Follow the tour guide's guidelines correctly
The Bali Quad Bike tour guide will provide good and correct directions for your safety while traveling around using ATVs. They will make sure everything goes smoothly and provide helpful guidance for you.
Do not let you drive ATV with high speed and out of the track path that has been determined. These things are very risky for your safety.
Quad Bike places you can choose by riding an ATV
Bali Quad Bike provides several places to play atv that can be selected to make it more exciting, in addition to traveling around with ATV, Quad Bike Bali will also provide other extreme tours that you can choose, such as:
I. Balaji Adventure – Real Jungle ATV with 9km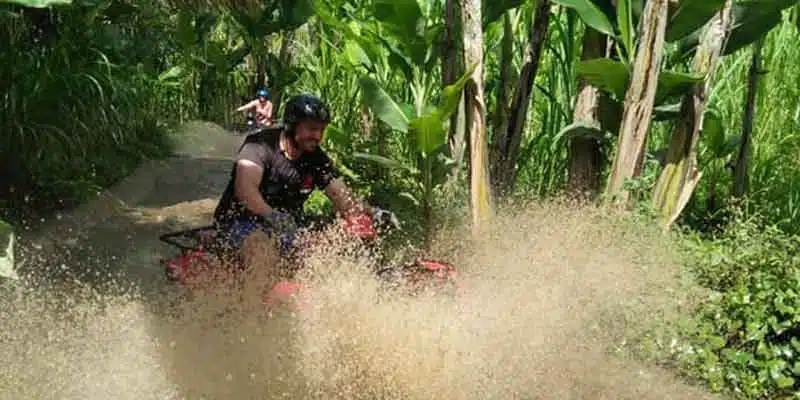 Balaji ATV Adventure offer great experience into the wild nature of Bali. Take you to an amazing experience riding on all-terrain vehicles (quad bike) with long and challenging track.
This place have longest atv track in Bali, we think only one in Bali. Ride ATV in Bali with real jungle along 9km. a combination of fun and thrilling activities in 2 hours of activities, will make your day more enjoyable. And of course the amazing things that will not be forgotten.
The track passing the valley, plantation, jungle, rivers, Bamboo forest, traditional village, hill and muddy track. It's safe and suitable for beginner and professional.
The facilities provide on Balaji ATV Adventure are complete one, such us: welcome drink, all safety equipment, helmet, boots, shower room, towel, professional ATV guide, lunch and full insurance.
II. Kuber Bali Adventure – ATV Waterfall and Tunnel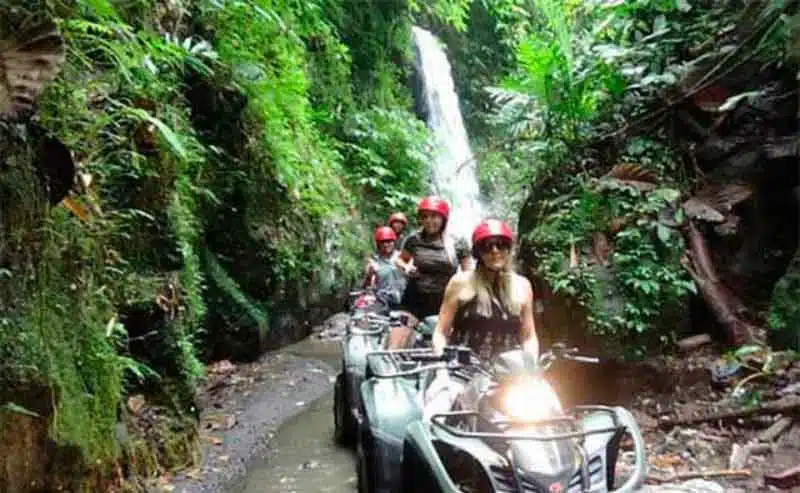 Kuber Quad Bike Adventure will make your day more impressive experience to try the Bali Quad Bike. Treat and test your courage and adrenaline in the four Quad bike adventure. Whist enjoying the panorama of the countryside of Bali. Accompanied by professional local guide, tour passed through rice paddy, villages, plantation, jungle, river, Waterfall and Cave.
The great thing is to ride an ATV in ancient Goa made in the Dutch colonial era. This Natural Cave was previously abandoned and spooky, before being taken by ATV Kuber Bali as part of the ATV Adventure trail. Moreover, you will feel like riding an ATV under a waterfall in the middle of a Jungle.
III. Bali Quad Bike on the Beach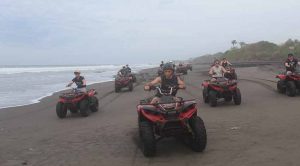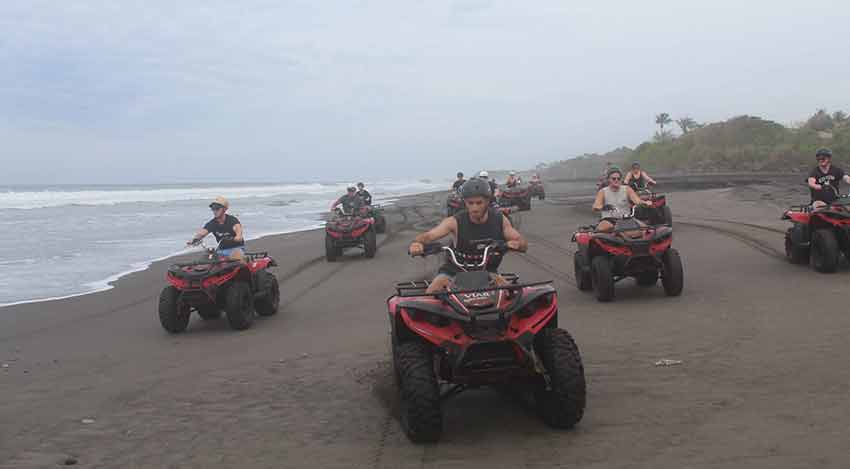 Bali ATV Ride On The Beach by Ozzy Bali Adventure is different experience for Quad Biking in Bali. We invite you ride along countless miles of remote black sand beaches. Then up through scenic world heritage listed rice fields. Jungle tracks and down through traditional local villages then back onto the beach.
Along the way you will see temples built on the beach for local ceremonies. Amazing rock formations, river crossing's, local fisherman, kids and families swimming and bathing in the rivers and lakes along the beach. Local farmers tending their rice fields and local produce.
V. Jambe Asri ATV – ATV Waterfall & Cave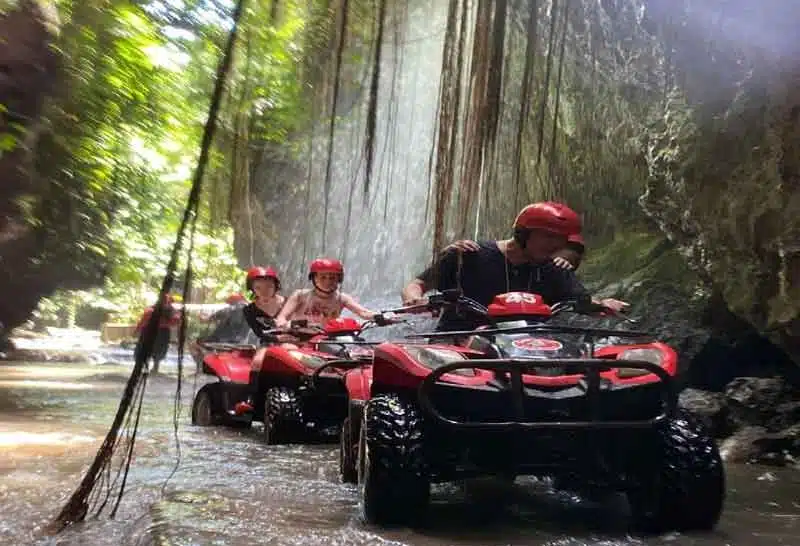 Hello Quad Bike ATV adventure lovers, we have good news for those of you who want to try waterfall and tunnel atv in Bali. The name of our new atv is Jambe Asri ATV Bali Adventure. This is an answer for atv quad bike lovers who want to play atv without having to travel longer to the atv location.
Previously we only had one ATV Quad bike location ATV with waterfall and tunnel, which was located in the Bayad village, Payangan with the name Kuber Bali ATV. The location is 25 minutes from the center of Ubud towards Kintamani. But, now we have opened closer from Kuta Bali. The trail we have was the same as Kuber, namely natural waterfalls and tunnels.
Jambe ATV Bali Adventure also offers a fairly long ATV track with a duration of up to 2 hours. We are sure there will be satisfied with this adventure. With a uniqueness that you will not find in other locations, namely when entering a fairly long tunnel while riding your ATV quad bike.
Besides that, you will also be spoiled by the beautiful and green countryside with a wide expanse of rice fields. You will always find a variety of challenges that stimulate adrenaline, such as tracks in river areas, muddy and slippery land and valleys that you must conquer when trying to ride an ATV at Jambe ATV Adventure.
In this 2 hour adventure, you will pass through residential villages, rice fields, rivers, valleys, caves/tunnels, mud and waterfalls. In addition, to maintain comfort and safety in ATV adventures at Jambe Asri, we provide various supporting facilities for your convenience.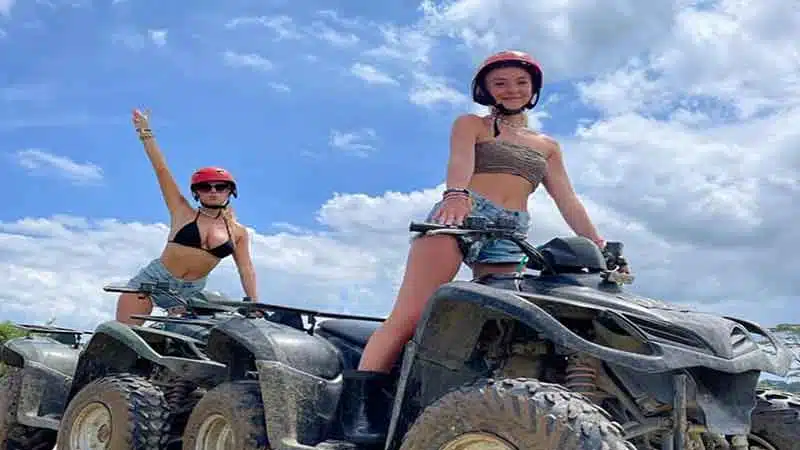 Activities Package for ATV in Bali
1. ATV Quad Bike Tour ~ Single Ride
ATV tour with Single Ride, which is meant by Single Ride is a quad bike with one rider. A single trip will give you satisfaction without thinking about your passengers.
With this ATV Quad Bike Single Ride you can feel more free in exploring according to the skills you have. But for beginners, you don't need to worry because we will provide guidance on riding a quad ATV and giving a test drive before going to the track.
2. Bali ATV Quad Biking Tour ~ Tandem Ride
Tandem Ride means one Quad Bike with one rider and one passenger (a total of 2 people in one quad bike). This is usually done in pairs or children under 10 years who will become passengers.
With Tandem Ride you don't need to be disappointed because in the middle of your adventure journey, you can change positions. Passengers become riders or vice versa.
What do you need to bring?
Additional clothes, because on the last trip we invited you to join playing mud, it'll make you have more fun after the jungle track.
Sun Cream, the weather in Bali lately is rather hot, sun cream is the best solution for your skin
Additional money, Quad Bike ride is rather tiring, so we provide cold drinks at the rest point, of course you have to spend a little money on your small expenses.
Info and Booking please Contact Us
FOR Booking please select Online Booking Form, More information please chat us via WhatsApp : +62 81236194398