Bali ATV Tunnel and Waterfall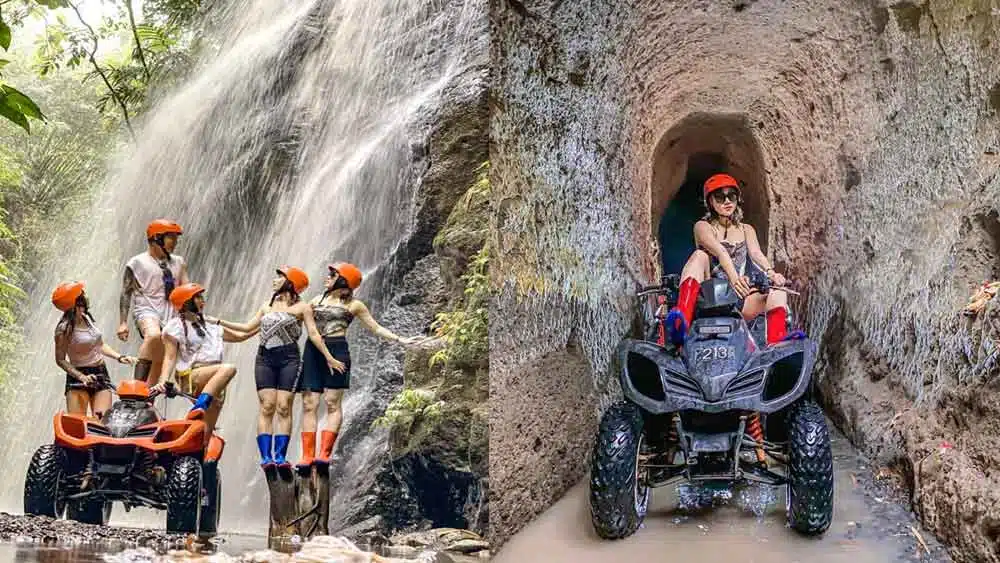 Bali ATV Tunnel and Waterfall is an atv quad bike track in Bali that is very popular today. ATV quad bike track that you won't find at all cheap ATV providers in Bali. ATV adventure activity is a thrilling adventure by riding a 4 wheel bike in the wild in a remote area in Ubud Bali. This is the best choice of activity for those of you who like adventure and want to relieve stress with daily work activities.
An amazing experience through tunnels and natural waterfalls is the Bali ATV track that we have. Very different from all ATV Quad Bike activity providers throughout Bali.
Our Bali ATV Tunnel and Waterfall, has a fairly long track through the forest, a wide expanse of rice fields, a valley with a green panorama around it. Then you can find plantations with various plants on our ATV tunnel and waterfall track.
No less interesting is the natural waterfall on the river track. So here you can feel the fresh clean rural water. Take the time to feel the impact of the waterfall falling from the height of the cliff.
Bali ATV Tunnel and Waterfall Provider
We currently have 2 locations for Bali ATV Tunnel and waterfall. Among them are Kuber Bali ATV, which has been running since 2010 with a 7km main track located in the village of Bayad Peliatan, Ubud.
Then we also make a similar track in a location that is easily accessible and closer if you are from the Kuta area. Our ATV Tunnel and Waterfall this one is called Jambe Asri ATV. We started to open in 2016 before corona. For details, let's check below.
1. Bali ATV Tunnel and Waterfall by Kuber Bali ATV Adventure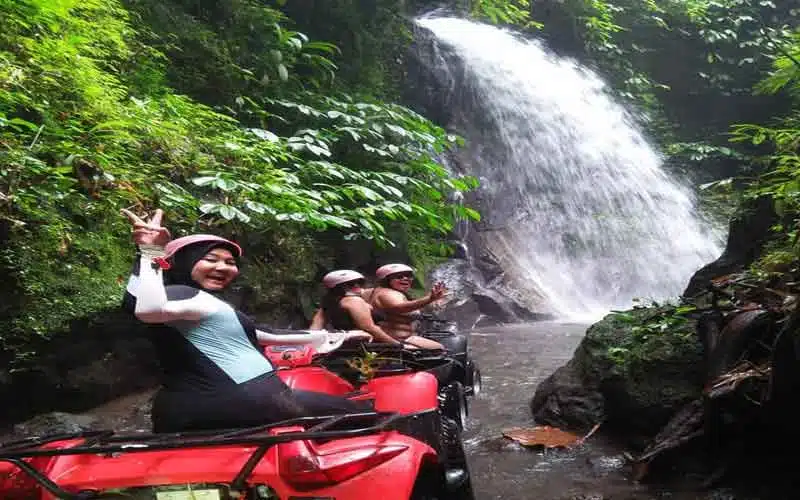 Located in the village of bayad peliatan ubud, exactly 30 minutes from the center of ubud to kintamni. This is the first ATV Quad Bike provider in the region which is fully supported by the Bayad Village. Our Kuber Bali ATV has a 7km track with the most interesting points being the Tunnel and the waterfall.
Before finding a waterfall in the middle of the forest you have to pass several tracks first, starting from; resident villages, rice fields with green panoramas, valleys. Then tropical forests, plantations and mud. It is very challenging for you to try before arriving at the river track with high cliffs on the left and right. Push your ATV Quad Bike Accelerate for 50 meters until you meet our interesting point, the natural waterfall.
Create beautiful moments here with a splash of waterfalls and capture your unique and rare photos when you join this Bali ATV Tunnel and Waterfall. After you are done with our waterfall point, it's time for you to pass our long tannel.
This is an old tunnel that was built during the 2nd world war.  As a hiding place for the people of that era. Push your ATV Quad bike Accelerate for 500 meters with the echoing sound of the ATV Quad Bike. But don't forget to turn on your ATV's lights, because this cave has no lights installed.
Kuber ATV Quad Bike Adventure Included
Welcome Drink On Arrival
Professional ATV Ride Instructor
1 Hours 15 minutes until 2 hours Atv ride through Rice Paddies, River, Tunnel, Muddy and Waterfall
Free Wifi
Changing Room And Toilet Facilities
Shower room and towel
Boots, Helmet and Locker
Lunch
Full Insurance Coverage
Price of Bali ATV Tunnel and Waterfall by Kuber ATV
| | | |
| --- | --- | --- |
| Description | Online Price | Official Price |
| Single ATV | 686.000/ person | 1.400.000/person |
| Tandem ATV | 900.000/ 2 person | 1.900.000/2 person |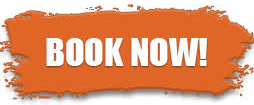 2. Bali ATV Tunnel and Waterfall by Jambe ATV Adventure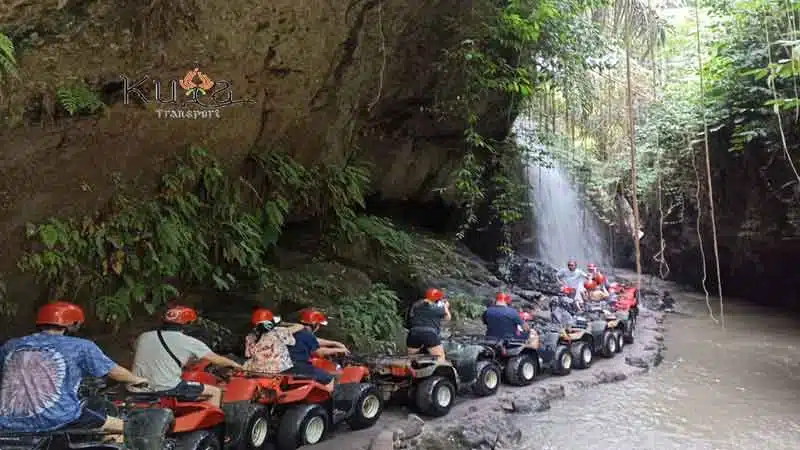 Jambe ATV Adventure has a similar track and almost the same there are natural waterfalls and tunnels with a long track of 8km with an adventure duration of up to 2 hours, and satisfaction guaranteed.
Located in Batubulan village, very close if you start from Kuta, Legian or Seminya area. Enough with the time of 30 minutes to 40 minutes depending on traffic jams on the road. Jambe ATV presents a trajectory that is no less exciting than the kuber bali ATV, rural nature and the green expanse of rice fields that you will pass.
In addition, you will find river tracks, valleys, caves/tunnels and waterfalls here. All the challenges that are presented will spur your adrenaline. Conquer tracks in watershed areas then muddy and slippery terrain and valleys. Adventure trips that will not be boring with the best spots such as tunnels and waterfalls will give freshness to your adventure with us.
Bali ATV Tunnel and Waterfall by Jambe ATV Adventure Include
Safety equipment: helmet, boots.
2 hours Atv ride through Rice Paddies, River, Tunnel, Muddy and Waterfall
Experienced instructor
Towel
Changing room, bathroom, toilet
Lunch
Full Insurance Coverage
Price of Bali ATV Tunnel and Waterfall by Jambe ATV Adventure
| | | |
| --- | --- | --- |
| Description | Online Price | Official Price |
| Single ATV | 550.000/ person | 1.200.000/person |
| Tandem ATV | 750.000/ 2 persons | 1.600.000/ 2 persons |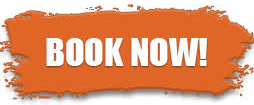 Activities in Bali ATV Tunnel and Waterfall
On this adventure, you can choose an ATV Quad Bike package that can be adjusted to the courage and age of the participants. You can choose a more impressive single ATV Ride without having to think about the passengers. Then the tandem ATV is suitable for children and couples who want to be together. Below are the ATV packages that you can take;
1. Single ATV Ride
Single ATV is an ATV ride – that many adventurers like, because here you can drive an ATV without having to think about the passengers behind you. Which means you ride the ATV alone. One ATV with 1 rider, no passengers.
So this package is perfect for adventurers who want more freedom in driving your ATV while conquering all challenges including waterfalls.
2. Tandem ATV Ride
In addition to riding an ATV Bali alone, there are also two ATV rides. These are usually taken by families who bring children. Because children are only passengers who sit in the back. So they are safe during their Bali ATV adventures.
Apart from being chosen by the family, there are also those who prefer to partner up in conquering all these exciting obstacles. During the ATV Tandem, they can also swap their seat positions during the adventure. Riders become passengers or vice versa.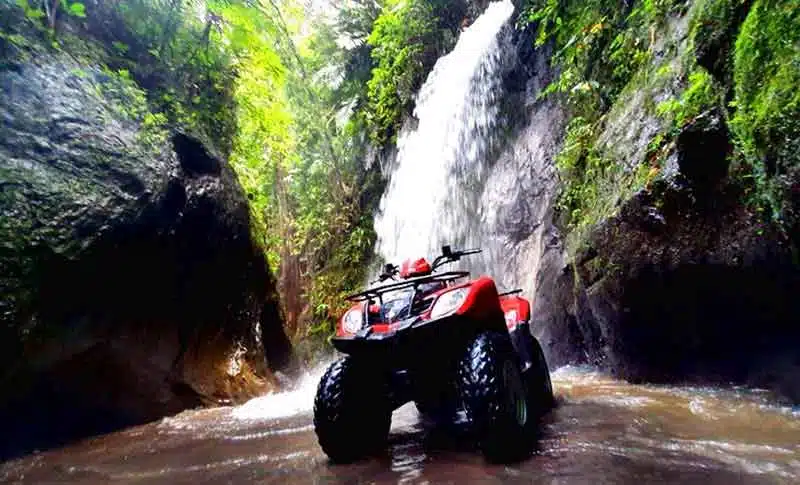 How to ride ATV in Bali
Before you join this Bali ATV, you need to know the technique of riding an ATV in Bali. Because there is no reason to make your exploration more enjoyable. The following are some ATV Riding guides in Bali, let's see below!
1. Use Safety Equipment
Before starting your ATV Bali adventure, you are required to wear safety equipment and equipment such as helmets and boots. But you don't need to bring it from home… We have prepared all this equipment for the participants of the Bali ATV Ride adventure. And this has been included in the ATV Tour Package in Bali
This helmet is quite effective in protecting our heads from impact when we fall on the ATV. And boots will be able to protect your feet from the heat of the ATV engine.
2. Knowing the basic techniques of ATV Riding
The technique of riding an ATV Tunnel and waterfall is actually not much different from a motorcycle. The difference is only in the gas operation step and gear shift between forward and reverse.
Gas operation on the ATV is done by pressing the button on the left handlebar. And the operation of gas on a motorcycle is on the handlebars in the right hand.
Knowing a little about some of the basics of driving an ATV is important. So that this Bali Adventure ATV exploration runs smoothly. But you don't need to be afraid, because before you are taken into the ATV adventure lane in Bali, you will be given a guide on how to ride an ATV properly.
3. Don't lower your feet while the ATV is running
When riding a motorcycle, it is okay to lower your legs when you lose your balance. However, the path that the ATV will pass is not a highway but through the forest. But lowering your feet while riding an ATV is the most fatal thing, especially if the ATV Quad Bike you are driving is still running. Because ATV tires can pull your feet.
So what is the balance technique? To control the balance of the ATV, you can lean in the opposite direction to the tilt of the ATV. For example, if the ATV is tilted to the right then you can lean slightly to the left or vice versa.
4. Not allowed to play ATV under the effects of alcohol
If you plan to do ATV rides in Bali, you are not allowed to consume liquor or alcoholic beverages. Because, the impact of alcohol in us can make your concentration decrease while driving. Your lack of concentration will automatically make it difficult for you to control your ATV. Until, this can result in loss for yourself.
5. Have to follow Your ATV Guide Guide
Throughout this Bali ATV Tunnel and waterfall adventure, you will be accompanied by several experienced guides. For your safety, it is mandatory to always follow the directions of your ATV guide. They will always follow you throughout this ATV tour. Never try to do something reckless like driving your ATV at high speed. Get off the track, because this is really a risk for your safety.
Frequently Asked Questions