Bali ATV Quad Bike and Breakfast with Orangutan
Bali ATV Quad Bike and Breakfast with Orangutans is one of the best ATV Ride tour packages offered with an amazing experience to start the most important dishes with our adorable Orangutans in their playgrounds. Breakfast with Orangutans at Bali Zoo. And then continued by 2 hours Quad bike.
The tour will be start at 7:00 a.m. from your hotel. Then we will take you to BALI ZOO PARK to start the most important dishes with our sweet orangutans in their playground. After your great day in the zoo finish, your driver will take you to the location of the Quad Bali bike.
This package combine with 9 km real jungle ATV Quad bike. Here you will enjoy two hours of Quad bikes through rice fields, plantations, bamboo forests, forests, rivers, villages and beautiful panoramas.
Let's make your day with unique experience on the countryside of Ubud Bali. Get your different experience with different way in Bali. Ride your semi automatic four wheel in the jungle, muddy trek with our professional ATV Guide.
After the jungle ATV finish, change your clothers than enjoy your Lunch. The lunch will be served at the ATV Ride restaurant after you complete the adventure of an ATV quad bike. this package will be finish after we drop you to your hotel. Please make sure and  your belonging, not left it in the park.
Attraction will do on Bali ATV Quad Bike and Breakfast with Orangutans
During this ATV package we will do two activities in one day tour approximately 8 hours from 7 am until 4 pm. Below are the attractions will do;
1. Breakfast with Orangutans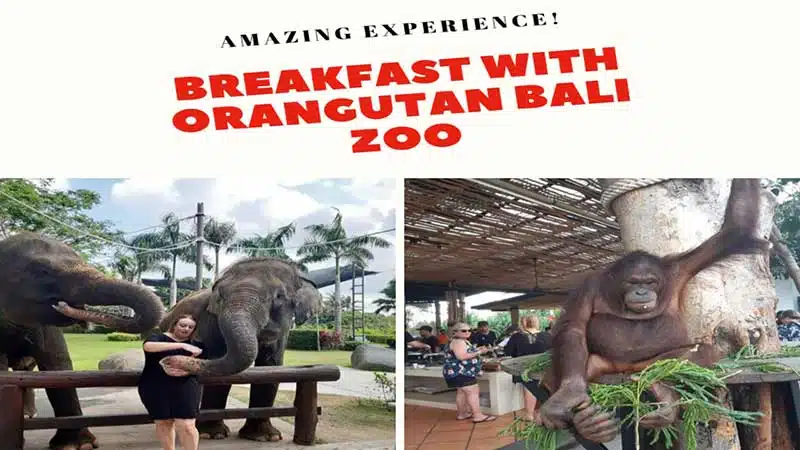 Breakfast with orangutans is an amazing experience that you can enjoy with your family by enjoying breakfast with orangutans at the Bali zoo.
Get this rare experience by enjoying breakfast with adorable Orangutans in their playground. This will be one of the new experiences in your vacation in Bali. This unique activity is the first in Indonesia. One of the Zoos in Bali launched a unique breakfast with Orangutan experience. delicious food served at breakfast accompanied by orangutans.
Start with an assortment of tropical fruit or fruit juices, followed by freshly baked bread, and a selection of main courses ranging from Fried Rice, Buttermilk Pancakes, Classic Cereals and more. Complete your morning with a delicious cup of Balinese coffee or English breakfast tea to complete the perfect end to your breakfast quest.
2. Jungle ATV Quad Bike Tour
For Jungle ATV Quad bike we have 3 options, that you can choose according your own interest and budget. Each our ATV have different track, start from easy track until extreme track. Let's check it below;
I. Balaji ATV Adventure - Real Jungle ATV 9 Km
Prepare yourself to conquer our 9 km long ATV track through forest and hills. Located in a remote area of Gianyar Regency, 30 minutes from Ubud. The organizers of this Balaji ATV Adventure will offer an amazing experience into the wilds of Bali.
Takes you to an amazing experience riding an all-terrain vehicle (quad bike) with long and challenging tracks in rice fields, forests, rivers and natural Balinese traditional villages that are not monotonous. It is safe and suitable for beginners and professionals.
This best and safe family adventure with green nature panorama in Ubud countryside.
Balaji ATV Adventure and Breakfast with Orangutans Bali Zoo Price
| | | |
| --- | --- | --- |
| TOTAL PERSON | SINGLE | TANDEM |
| 2 – 3 | USD. 105 | USD. 205 |
| 4 – 6 | USD. 98 | USD. 195 |
| 7 – Up | USD. 97 | USD. 190 |
II. Kuber ATV Adventure - ATV Waterfall and Tunnel
The second ATV option is the Kuber ATV with a track through tunnels and waterfalls. These tracks are also atv jungle but have unique and different tracks like valleys, rivers, plantations, waterfalls and caves. You can choose one to combine these packages.
This is a slightly extreme ATV adventure in Bali that you can join for 1 hour 30 minutes to 2 hours. You can only find this natural track with us. The track passes through rice fields, villages, valleys, forests, plantations, rivers, waterfalls, caves and mud.
Feel the sensation of adventure in the open in the Ubud area by riding an ATV Quad Bike that can bulldoze all available terrain.
Kuber ATV Adventure and Breakfast with Orangutans at Bali Zoo
| | | |
| --- | --- | --- |
| TOTAL PERSON | SINGLE | TANDEM |
| 2 – 3 | USD. 110 | USD. 215 |
| 4 – 6 | USD. 99 | USD. 199 |
| 7 – Up | USD. 96 | USD. 195 |
Bali ATV Quad Bike and Breakfast with Orangutan, highlight
See the largest Zoo park in Bali with more than 100 animal.
Great Breakfast with sweet orangutans at the Zoo Park.
2 hours Jungle ATV Quad Bike
Go with international safety equipment and professional ATV guide
Lunch Indonesian menu
Full insurance covered during ATV Quad bike tour
Additional info :
Single ride is One Bike for 1 persons, price per – person
Tandem Ride is One Bike for 2 persons, price per – 2 persons
Bali ATV Quad Bike and Breakfast with Orangutan, Included
Private transport with English speaking driver
2 hours ATV Quad Bike Tour
ATV Guide and All safety Equipment
Breakfast With Orangutan at The Zoo Park Bali
Lunch Indonesian menu after ATV
Towel, locker and shower room
Insurance
ADDITIONAL SERVICE
Free baby seat & stroller
Comfortable car seat, English speaking drivers guaranteed .
6 seats with great Air-Con
WHAT TO BRING
Changing Clothes
Camera or G-Pro
Sun Glasses
Swim suit
Sunscreen
How to Make Booking,  Bali ATV Quad Bike and Breakfast with Orangutan
FOR LAST MINUTE Booking, please send your request
via WhatsApp/Viber/line: +62 81236194398
Office Hour: 08.00 AM – 17.00 PM
Please send us email through booking form below to make a booking or ask questions