Kuber ATV Adventure and Telagawaja Rafting
Kuber ATV Adventure and Telagawaja Rafting Bali is the best Bali quad biking package in one day tour to pump up your adrenaline with white water rafting in telagawaja river. And combine with kuber bali ATV Tour. The first we bring you to join white water rafting in the best and longest river rafting in Bali.
Conquer the 18 km rafting track on the East Bali River in 3 hours. Enjoy views of the tropical forest along the track with an inflatable boat accompanied by professional rafting guide. This is an amazing adventure that you can get at BaliQuadBiking.com at a very affordable price as well
After telagawaja rafting finish our driver will take you to ubud for ATV Quad Bike Adventure at Kuber ATV. This ATV provider will help you opt out of the best tracks dominated by rice paddies, rivers, traditional villages, Jungle, Waterfall and Cave, that suit all terrain vehicles for your ultimate riding experience.
Just come and join us! Time for you to take the challenge of fun ride along the natural beauty of Bali to pamper your adrenaline with Kuber ATV Adventure and Telagawaja Rafting Bali. It 's the best ATV package in Bali, We bet you won't regret and forget the opportunity!
Activities will do on Kuber ATV Adventure and Telagawaja Rafting
Below are some activities you will get when join bali quad bike package for kuber ATV Bali and Telaga Waja Rafting, let's chek it!
1. Telaga Waja River Rafting Bali
The first our driver will come to pick you up at 6.30 am according to your hotel location. Enjoy your comfortable trip during the way to Muncan Village for white water rafting. Located in Rendang, Karangasem. Take your life jacket and following your rafting instructor before going to river. Before join telagawaja rafting, better you know about telaga waja river
This river has Level of difficulty. Basically, the Telaga Waja River rafting can be classified into quick class difficulties. This means that the level of difficulty from II to IV. The following is an explanation of each level:
Level II Difficulty – you don't need too many maneuvers to go through the route with this difficulty. If you fall from the raft, chances are, you won't get any injuries.
Difficulty level III – need good control and maneuverability because there are several heavy currents along the route with this difficulty. You have to be a good swimmer if you want to save yourself after falling into the river with this difficulty. If not, you need help from the rescue team.
Level IV difficulty – extreme which also requires fast maneuvering and control. And a team of experts and rescuers will be the only one who can save you from this area.
After rafting finish, enjoy your lunch in our resto while take your time for rest before the tour continue to ubud for atv quad bike.
2. KUBER Bali Adventure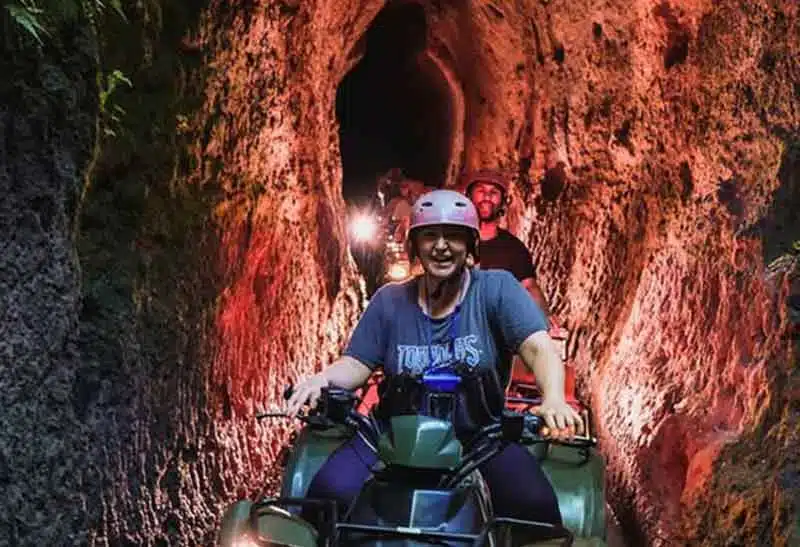 Our second activity is Kuber ATV Quad Bike. This adventure will make your day more impressive experience to try the real nature treck for Bali Quad Bike. Treat and test your courage and adrenaline in the four Quad bike adventure whist enjoying the panorama of the countryside of Bali. Accompanied by professional local guide, tour passed through rice paddy, villages, plantation, jungle, Waterfall and Cave
After we arrive our professional instructor will give you Briefing about how to ride ATV, Use equipment trek, Standard of safety and Bali ATV ride trek. The great thing is to ride an ATV in ancient cave made in the Dutch colonial era.
This Natural Cave was previously abandoned and spooky, before being taken by ATV Kuber Bali as part of the ATV Adventure trail. Moreover, you will feel like riding an ATV under a waterfall in the middle of a Jungle.
Kuber ATV Adventure and Telagawaja Rafting, Highlights
Private Hotel Transfers ( Only you, your partner or your Group )
Rafting Trip with Buffet Lunch and pick up Included
Go on Bali's top adventure – see the lush rain forest, waterfalls, and breathtaking georges
Professional guides in the business – professional trained and friendly – top-of-the-line equipment
Suitable for couple, group travelers and people of all ages – from 7 to 65 years old
Medical insurance coverage
18 km for white water rafting and 7 km ATV Quad Biking through Cave and Waterfall
Kuber ATV Adventure and Telaga Waja Rafting
06.30 am : pick up from your hotel with private transport with experienced driver
09.30 am : Arrive at white water rafting, use safety equipment, following safety advice during rubber boat in the river, ready to adventure
13.45 pm : Telagawaja white water rafting finish, take your time for shower, change clothes and rest. Than drive to rafting adventure side.
14.45 pm : Arrive at the quad biking adventure site and enjoy the welcome drink
15.15 pm : use the safety equipment, following the advice for ride and safety during the trek and ready to quad biking
17.15 pm : 2 hours trek finish, take your time for change clothes and lunch,
18.30 pm : back to hotel
What's included ?

Hotel Pick up and return transfers (Nusa Dua, Sanur, Kuta, Seminyak, Canggu, Tuban, Jimbaran, Uluwatu and Ubud)
High quality rafting equipment & International Safety Standard
Welcome drink
Clean towel
Safety & paddle briefing
Professionally trained raft guide
Changing room & shower at finish point
Personal insurance coverage
Buffet lunch with delicious local food after rafting.
Safety Approved ATV Quad Bike Equipment
Professional Quad Bike Guide
Kuber Bali ATV Adventure and Telaga Waja Rafting
| | | |
| --- | --- | --- |
| Descriptions | Price | Remarks |
| Single Ride | USD. 80 | Min, 2 paxs |
| Tandem Ride | USD. 155 | For 2 paxs |
*** Special Price, if booking more than 5 persons with term and condition aplay
Pick Up Times:
06:00 am : Nusa Dua, Jimbaran, Uluwatu
06:30 am : Kuta / Legian / Seminyak / Canggu / Tuban
06:30 am : Sanur
06:30 am : Ubud
What You Need to Bring :
Short Pants or Swimsuit
Change of dry clothes
Sunscreen
Sunblock
Hat
Sport Shoes or Strapped Sandals
Extra Money
Waterproof Camera
Make Reservation for Kuber Bali ATV Adventure and Telaga Waja Rafting
FOR LAST MINUTE Booking, please send your request via WhatsApp/Viber: +62 81236194398. Please fill out this form below to make a booking online, please make sure your email and phone still active for easy us reply or send confirmation booking.
---