Bali Quad Bike Adventure Ubud – Balaji Adventure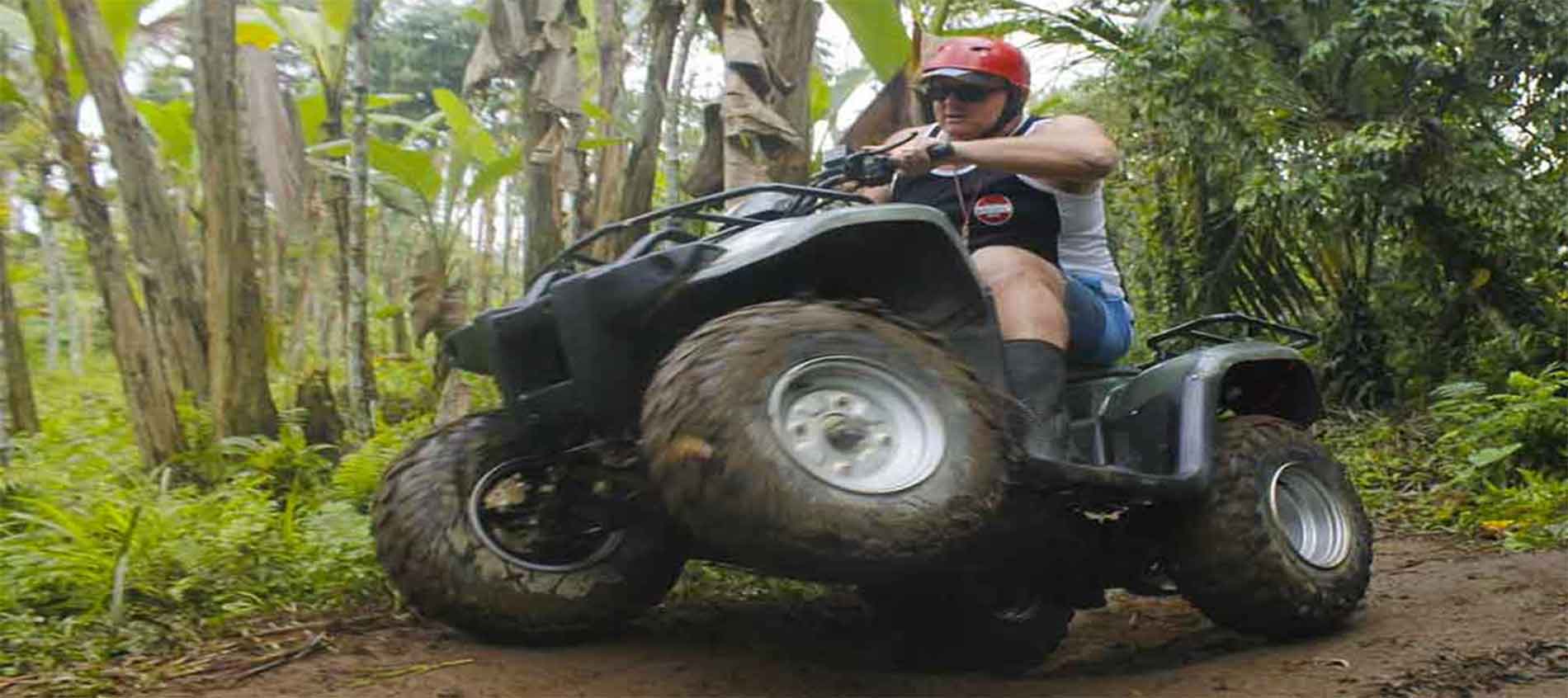 Bali Quad Bike Adventure Ubud Located in the hills just about 90 minutes north of the Airport Ngurah Rai Bali. Find the Quad bike jungle tour in Bali. We have long trek in natural environment is very cool and picturesque panorama,
Get yourself ready for our 9 kms ATV track through the jungle and rice field. Located in the remote area of Gianyar Regency, 30 minutes from Ubud, We are offer great experience into the wild nature of Bali. Take you to an amazing experience riding on all-terrain vehicles (quad bike) with long and challenging track along the rice fields, jungle, rivers, and natural Bali traditional village that are not monotone. It's safe and suitable for beginner and professional.
Come on!!! Ride with us!!! It's time for you to try out our challenging track to pump up your adrenaline. Back to the nature and having full of fun! You won't regret and forget the experience, because your handle by the expert one
Whats ATV Quad Bike we have?
Bali Quad Bike Adventure Ubud, Highlights
ATV Quad Bike Riding Bali with Buffet Lunch and pick up Included
Go on Bali's top adventure – Longest jungle trek 9 km, see the lush rain forest, Rice Paddies, Bamboo Forest, playing in the mud and breathtaking gorges
The best deal price – professional trained and friendly staff – top-of-the-line equipment
Suitable for couple, group travelers and people of all ages – from 5 to 65 years old
Insurance coverage
Long of track in Balaji ATV is 8km with duration 1 hour 45 minutes until 2 hours depends on your ride Quad Bike skill.
Itinerary of Bali Quad Bike Adventure Ubud with hotel transfers
07:30 – 13:00: pick up from the hotel (depending on hotel location and your time request)
Arrive at Quad Bike Camp, enjoy a fresh welcome drink.
Use safety equipment, helmets, boot, and listen to all safety instructions from your ATV guide.
Enjoy every challenge for about 2 hours, your tension will disappear with the observation of our experienced guides.
At the end of your adventure we invite you to play in the mud. and of course you need a place to take a shower and change clothes before enjoying your lunch.
After enjoying lunch, your driver is ready to take you back to the hotel. Make sure your belongings are not forgotten.
Bali Quad Bike Adventure Ubud Price
We have two options price for Balaji ATV below, please choose according you need :
If you have transfer or you have your own driver, then Ticket without Transfer is best for you. We would sent you ATV office location after we received your booking or Check our FAQ below.
If you want to request hotel transfers Pick Up and drop off with private service you can Add Hotel Pick-up Service in the form Booking.
Bali Adventure Ubud has several packages that you can choose according to your interests. Of course, according to your budget and own interests.
Here you can get an ATV adventure in Ubud with 2 hours which is very challenging and exhilarating. Then 5 hour adventure through the Kintamani forest. Besides that, Balaji Adventure also provides adventures with motor trail (KLX or KTM).
Besides that, you can also take a honeymoon package (a combination of ATV Ride and Trail Bike). For more details please see below,
1. Balaji ATV Adventure Ubud with 8km
An ATV adventure in Ubud away from the crowds. With a track length of approximately 8km. Conquer muddy terrain, descend valleys, traverse bamboo forests.
Then plantations and villages, the road descends then the hills with panoramic views of the mountains. In this adventure you need 1 hour 45 minutes until 2 hours in beautiful nature depends on your ride skill.
approximately almost 2 hours of fun in the countryside will make your day more memorable. This track is perfect for families and adventure lovers.
Price for 8km Jungle Track
| | | |
| --- | --- | --- |
| Description | Single | Tandem |
| On The Spot Price | 1.200.000/ person | 1.600.000/2 persons |
| Online Price | 552.000/ person | 805.000/ 2 persons |
2. Balaji Adventure Ubud with 5 hours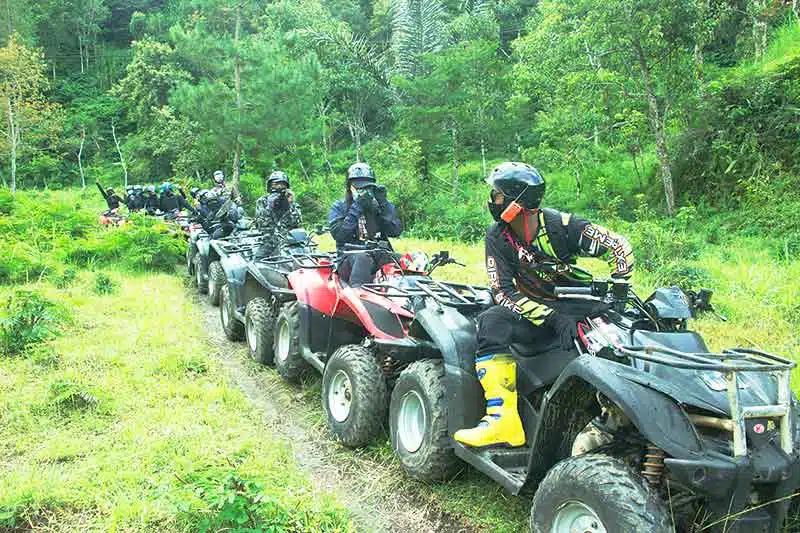 Balaji ATV Adventure is one of the ATV providers in Bali with the longest ATV track in Bali for sure!
Even though there are many companies providing ATV activities in Bali, there is only one ATV with the longest track in BALI!
It's really a true adventure with 5 hours ATV ride. Ride ATV through the forest in Kintamani, Bali. Feel the adrenaline rush, enjoy the beauty of Mount and Lake Batur. End the trip with a nice lunch in the forest.
This atv adventure is only available a limited number of times per day to preserve nature and forests.
Price for 5 hours Adventure
| | | |
| --- | --- | --- |
| Description | Single | Tandem |
| Price | USD.225/ person | USD. 300/ 2 persons |
3. Balaji Dirty Bike Adventure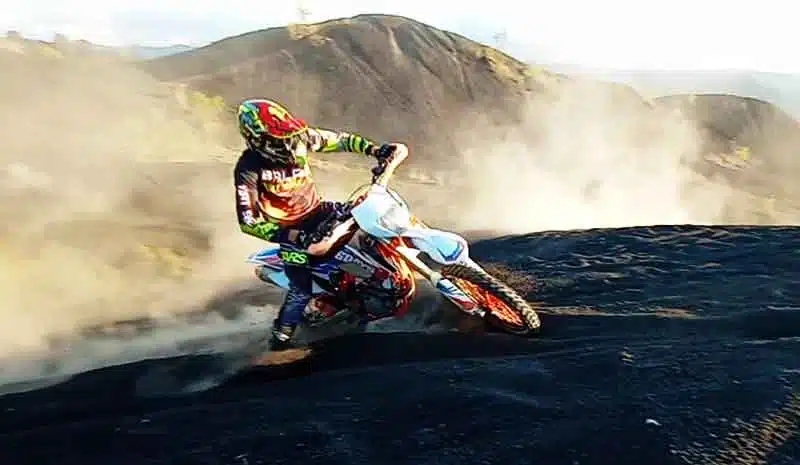 Balaji Dirt Bike Bali is a playground for the brave! If you are a motorcyclist, let's explore Bali in a different way.
Join us for a half day or full day tour exploring Bali's nature where not just anyone has access. Choose your trail!
For Beginner-Advanced we provide the Kintamani Black Lava course which gives you the experience to ride freely and jump in the volcanic landscape of Mount Batur: a vast area of black sand dunes with views of Lake Batur behind. Show your best cycling skills.
The Intermediate-Advanced Pass through the Kintamani Forest takes you from the wide open road into the forest and into the 7.5km wide inner caldera that was formed 29,300 years ago. With a variety of terrain options, you'll climb through a variety of elevations along the track. Prepare your energy!
Price for Balaji Dirtybikes
| | |
| --- | --- |
| Bike Types | Price USD |
| Kawasaki KLX 200cc | USD. 200/p |
| Yamaha YZ 2 Stroke 250cc | USD. 250/p |
| KTM 4 Stroke 350cc | USD. 350/p |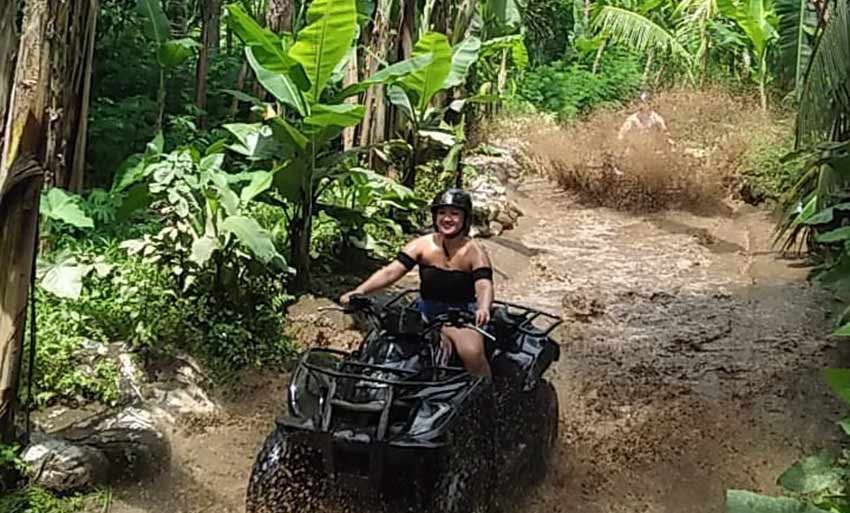 Fun Activities Packages in Bali Quad Bike Adventure Ubud – Balaji ATV
At Balaji ATV Adventure Ubud, you can choose an ATV ride package that can be adjusted to the courage and age of the participants. You can choose a more impressive single atv ride without having to think about the passengers. Then the tandem ATV ride is suitable for children and couples who want to be together. Below are the ATV packages that you can take;
1. Single ATV Package
Single ATV is an ATV ride – that many adventurers like, because here you can drive an ATV without having to think about the passengers behind you. Which means you ride the ATV alone. One ATV with 1 rider, no passengers.
So this package is perfect for adventurers who want more freedom in driving your ATV while conquering all challenges including waterfalls.
2. Tandem ATV Package
In addition to riding an ATV Bali alone, there are also two ATV rides. These are usually taken by families who bring children. Because children are only passengers who sit in the back. So they are safe during their Bali ATV adventures.
Apart from being chosen by the family, there are also those who prefer to partner up in conquering all these exciting obstacles. During the ATV Tandem, they can also swap their seat positions during the adventure. Riders become passengers or vice versa.
Price Bali Quad Bike Adventure Ubud Included
Private hotel transfers ( If booking with hotel transfers )
Welcome Drink On Arrival
Professional Quad Bike Instructor
8km Jungle track with 1 hour 45 minutes until 2 hours ATV Ride through Forest, Plantation, Valley, Hill and Muddy
Use Of Towels And Shower Facilities
Changing Room And Toilet Facilities
Boots, Helmet and Locker
Free Wifi
Lunch
Insurance Coverage
The price already include with 21% Government tax and Services
Additional info
Single ride is One Bike for 1 persons, price per – person
Tandem Ride is One Bike for 2 persons, price per – 2 persons
Above price only for online Booking with Bali quad biking company
Online Ticket, Term and Condition
Above Price only for Online Payment
Must Book 2 days before Advance
Free Cancellation up to 2 days in Advance
Free Reschedule – Please info Us 1 day info
We will send an voucher email that contains the link to resend voucher to your email address
Please show your BOOKING VOUCHER when you arrive in location.
Payment settle on Booking by visa/master card with secure payment
Cancellation Policy
If you have purchased Bali Quad Bike Adventure Ubud ( Balaji ATV Adventure ) ticket and want to Cancel OR Reschedule . We will refund your payment under the following conditions
Free cancellation, if you want to cancel the booking up to 3 days in advance the activity date ( Tax refunds money will be charged according your bank policy )
Cancellation on the day on arrival will be charged 100% of the total price of the booking.
No-Show Fee of 100% from TOTAL Tour Price will be charged if it is not present on the confirmed date.
Reschedule the date of ticket have to info Us one day ( 24 hours ) before
For Refund and Reschedule please contact us via WhatsApp +6281236194398 and Email : baliquadbiking@gmail.com
What do you need to bring ?
Additional clothes, because on the last trip we invited you to join playing mud, it'll make you have more fun after the jungle treck.
Sun Cream, the weather in Bali lately is rather hot, sun cream is the best solution for your skin
Additional money, Quad Bike ride is rather tiring, so we provide cold drinks at the rest point, of course you have to spend a little money on your small expenses.
Frequently Asked Questions
Recommended Balaji ATV Package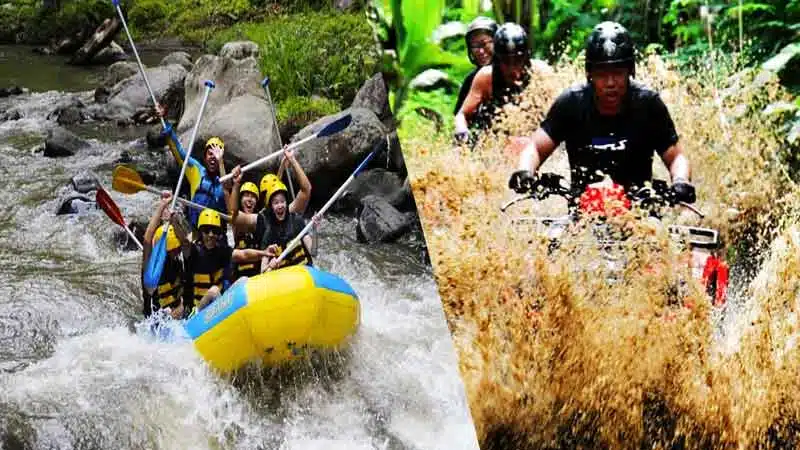 Ayung Rafting and Balaji Bali ATV Adventure
ATV Quad Bike and Ayung River Rafting is the best adventure package with pump up your adrenaline by Bali Quad Biking and Ayung River Rafting in on day tour. Read more …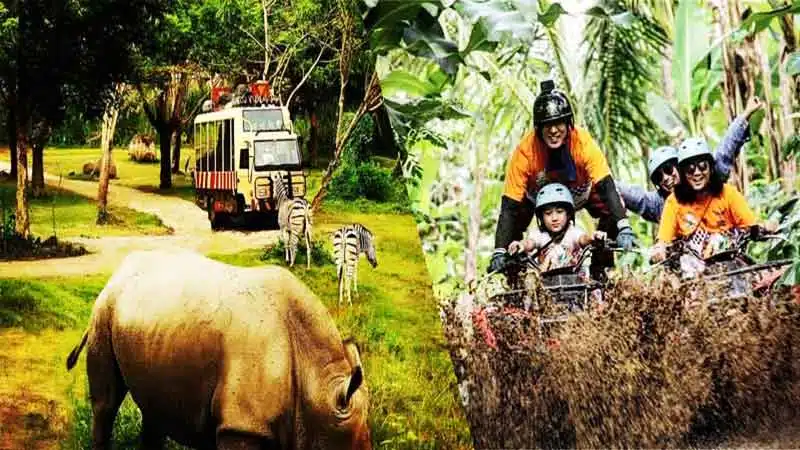 Bali Safari Park and Balaji ATV Adventure
Bali ATV Quad Bike and Bali Safari Marine Park is an adventure package for quad bikes which is combined with the activities of the Bali safari zoo. Read more …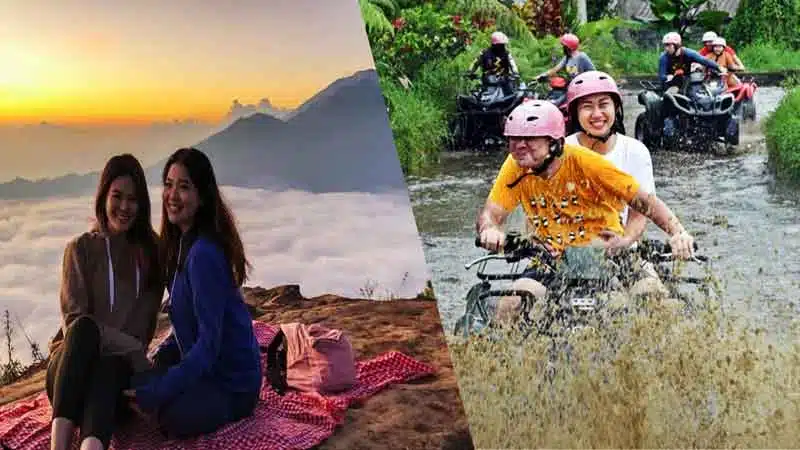 Mount Batur Trekking and Balaji ATV Adventure
Bali Quad Bike and Mount Batur Sunrise trekking tour is one of Bali Atv tour package with best rate and best combination for volcano trekking and Bali Quad biking tour. Read more …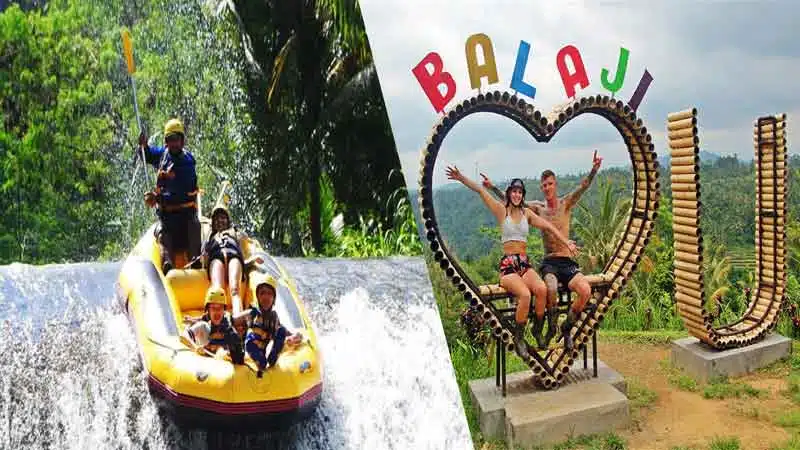 Telaga Waja Rafting and Bali Quad Bike Tour
ATV Quad Bike and Telaga Waja Rafting are super cheap quad biking packages in one day tour. Feel the thrill with Telaga waja rafting and ATV quad biking. Read more …
Mason Elephant Ride and Jungle ATV Quad Bike
Bali Quad Bike and elephant ride tour is the super save package. Become our best seller which offers the best rate and best combination Elephant ride at mason park. Read more …