Breakfast with orangutans at the Bali Zoo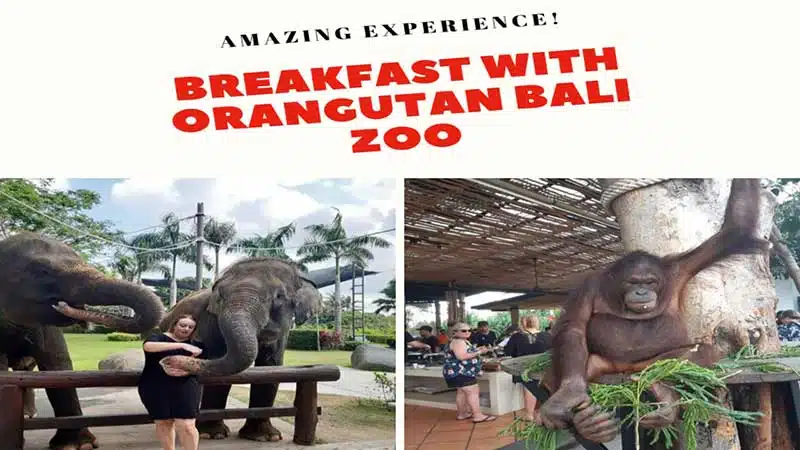 Hello adventures, this time I will review breakfast with orangutans at the Bali zoo. Because to meet the demands of customers who want to combine our ATV Ride activities with this one activity. Breakfast with orangutans is an amazing experience that you can enjoy with your family by enjoying breakfast with orangutans at the Bali zoo.
Get this rare experience by enjoying breakfast with adorable Orangutans in their playground. This will be one of the new experiences in your vacation in Bali. This unique activity is the first in Indonesia. One of the Zoos in Bali launched a unique breakfast with Orangutan experience. delicious food served at breakfast accompanied by orangutans.
Start with an assortment of tropical fruit or fruit juices, followed by freshly baked bread, and a selection of main courses ranging from Fried Rice, Buttermilk Pancakes, Classic Cereals and more. Complete your morning with a delicious cup of Balinese coffee or English breakfast tea to complete the perfect end to your breakfast quest.
Breakfast with orangutans at the bali zoo package includes breakfast with orangutans, animal encounters, exotic bird shows, all entrance fees, insurance. After finish your breakfast you can explore your time to see more than hundred animal in this park.
Recommended ATV Quad Bikes to combine with breakfast with orangutans at the Zoo
Below there are 3 Bali ATV Ride Ubud that you can to combine with breakfast with orangutans Bali. With unique and natural ATV tracks, these 3 different ATV track to be the best ATV spots in Bali.
1. Kuber Bali ATV
Kuber Bali ATV Adventure is the best for ATV Ubud Bali in this time. It'll make your day more impressive experience to try Bali ATV Ride Ubud Bali. Treat and test your courage and adrenaline in the four Quad bike adventure whist enjoying the panorama of the countryside of Bali.
Accompanied by professional local guide. Ride your ATV passed through rice paddy, villages, plantation, jungle, river, Waterfall and Cave.
7 km natural atv track will give you an awesome experience. Pass through the green rice fields, then down the valley for a forest trail. Then ride the ATV on the plantation as well as the river. Passing waterfalls and caves is a track that you won't find anywhere else, except at Kuber Bali ATV
2. Balaji ATV Adventure
Balaji ATV Adventure Located in the hills just about 90 minutes north of the Airport Ngurah Rai Bali. Find the Quad bike jungle tour in Bali. We have long trek in natural environment is very cool and picturesque panorama.
Get yourself ready for our 9 kms ATV track through the jungle and rice field. Located in the remote area of Gianyar Regency, 30 minutes from Ubud, We are offer great experience into the wild nature of Bali.
Take you to an amazing experience riding on all-terrain vehicles (quad bike) with long and challenging track along the rice fields, jungle, rivers, and natural Bali traditional village that are not monotone. It's safe and suitable for beginner and professional.
3. Jambe ATV Bali Adventure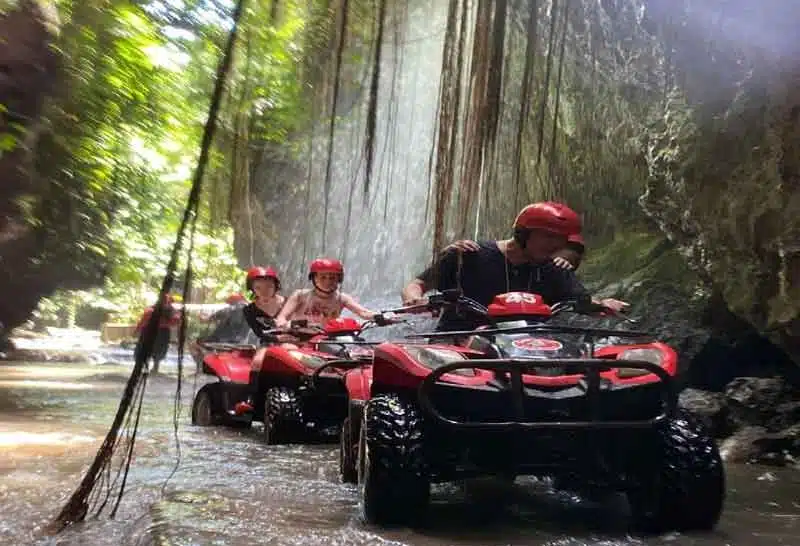 This is the second waterfall and cave track besides Kuber ATV. Jambe Asri ATV Bali Adventure is the answer for atv quad bike lovers who want to play atv without having to travel far to the atv location. However, now we are closer to Kuta Bali. We have the same trail as Kuber, namely natural waterfalls and tunnels.
Jambe ATV Bali Adventure also offers quite long ATV tracks with a duration of up to 2 hours. We are sure that someone will be satisfied with this adventure. With a uniqueness that you won't find in other locations, namely when you enter a long tunnel while riding your ATV quad bike.
In addition, you will also be spoiled with beautiful and green countryside with wide expanses of rice fields. You will always find various challenges that stimulate adrenaline, such as tracks in river areas, muddy and slippery ground and valleys that you have to conquer when you try to ride an ATV at Jambe ATV Adventure.
Well.. that's the Bali ATV Ride Guide, hopefully this can add information about how to safely ride an atv in Bali, what to bring and recommendations for the best atv in Bali.
Have Question and Booking for ATV and Breakfast with orangutans at the Bali Zoo
Please send us require sent via Email, Text, Phone, or WhatsApp.
After we received your Tour or Activity booking request we will reconfirm again your booking request, to make sure all request is correct.
Make sure you put valid email address, so we can reply after received your Tour or Activity booking request.
E-mail : baliquadbiking@gmail.com
Quick Respond WhatsApp on +6281236194398
Breakfast Orangutan and Kuber ATV
Kuber Bali ATV Quad Bike and Breakfast With Orangutans at Bali Zoo is super save Bali Quad Biking packages, specially prepared for you during holiday in Bali.
Read more
…
Breakfast Orangutan and Jungle ATV 9km
Jungle ATV and Breakfast with Orangutans is one of the best tour packages offered with an amazing experience to start the most important dishes with  Orangutans.
Read more
…