Quad Bikes Bali Tour, Exciting and Pumping Adrenaline
Want to try an ATV adventure tour in Bali? There is good news for those of you who like ATV riding. We provide Quad Bikes Tour Bali which can refresh your adrenaline with a wide selection of tracks that you can choose according to your interests.
This ATV game is an adventure tour that uses a four-wheeled motorbike with challenging tracks. ATV or All-Terrain Vehicle is specially designed for extreme sports.
Our ATV tour in Bali has a variety of special tracks with slippery, muddy and winding roads. The sensation is certainly different from driving an ATV on a flat and smooth surface.
The excitement of Quad Bikes Bali Tour
Bali ATV Ride is one of the activities that is often a favorite choice when on vacation in Bali. This activity is very challenging and can also be done with the whole family.
For those of you nature lovers, of course you really like this activity because you will explore forests, rivers, rice fields, to villages within 1 to 2 hours.
Usually you will be presented with a view that is no less epic when riding an ATV. Moreover, Bali's natural wealth is full of beauty that is second to none.
If you are still a beginner, don't worry. When you ride an ATV, you will be accompanied by an experienced guide who will make the trip even safer and more comfortable.
5 Recommended Quad Bikes Bali Tour
There are lots of ATV tours that you can use Quad Bikes Bali, you have to try them for the fun. The following are recommendations for ATV tourist spots in Bali specifically for you lovers of extreme tourism, see below!
1. Kuber Bali ATV Adventure
The first ATV ride is Kuber Bali Adventure. This place is a popular and much enjoyed ATV tour. In this place you will be taken around the rice fields, villages, down the valley into the forest, then head towards the river and enjoy natural waterfalls.
The most popular attractions from Kuber Bali are the ATV trails which are the longest natural tunnels in Bali. There is something even more unique, Kuber Bali provides lunch facilities for visitors provided at the restaurant. This restaurant is right in the middle of the rice fields so it gives a beautiful and calming impression while enjoying lunch.
2. ATV Silakarang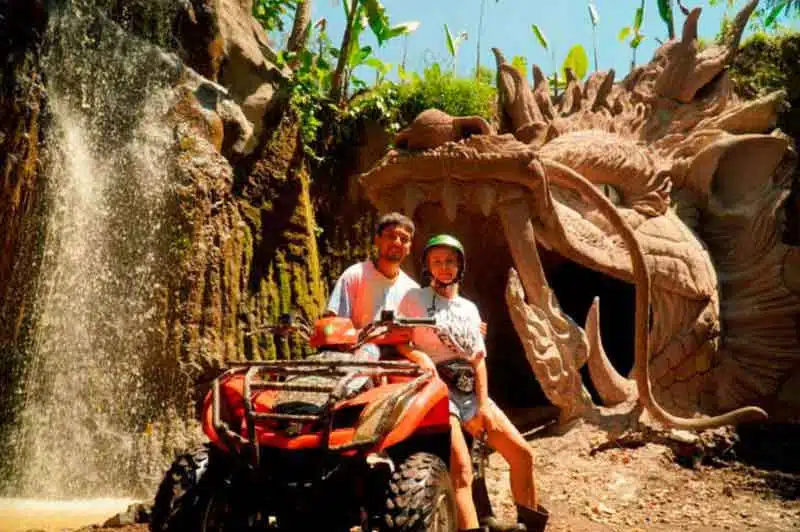 You can use Quad Bikes Bali while going around Silakarang which is located in Ubud. This place has a track that is quite challenging. Silakarang Ubud itself is in the Singapadu area which is one of the tourist village locations.
The village's varied terrain, which includes mountains and a rural setting, adds to the enjoyment of ATV riding. Silakarang has green rice fields, small rivers, cliffs and one of the spots that is a hit from ATV tourism is a waterfall and dragon head cave.
3. Jambe Asri Adventure ATV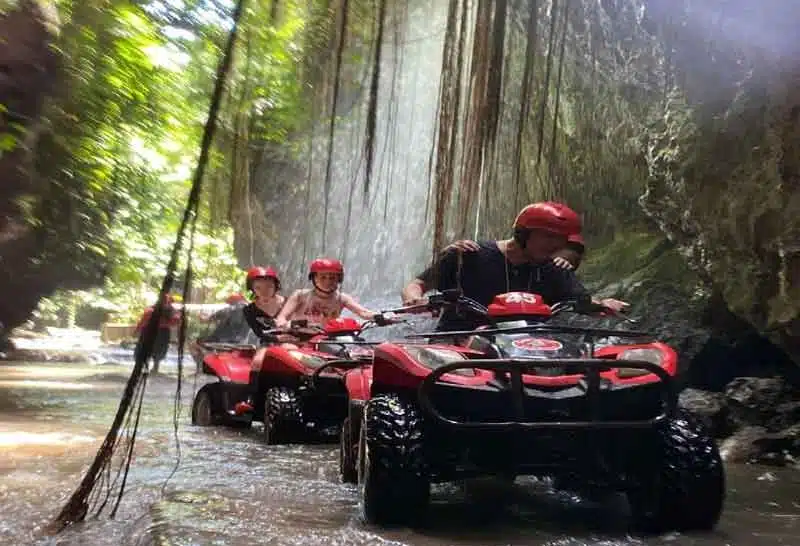 Even though it is relatively new as an ATV tour, it does not mean that the quality of the Jambe ATV track can be doubted. Jambe ATV Adventure offers an exciting and unforgettable experience for you. This ATV track is located in Gianyar Regency, Bali.
Here you will cross residential areas and be able to interact with them, then pass through rice fields to muddy tracks, and along rivers until you meet waterfalls and ditches. The journey then continues by crossing the middle of the cliff and entering the tunnel.
4. Balaji ATV Adventure Bali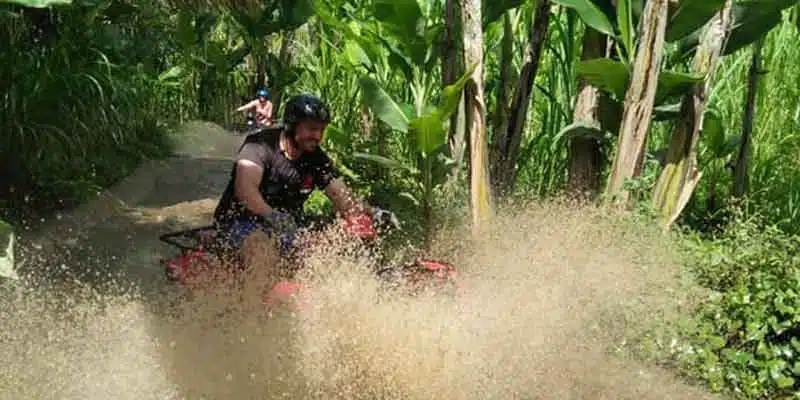 The next recommended ATV tour is Balaji ATV Adventure. Balaji Adventure is one of the most popular ATV spots in Bali. You can use Quad Bikes Bali as a professional ATV service.
The location of Balaji ATV Adventure is in a remote area in northern Ubud. Even though it is far away, the tracks offered are very challenging and long. You can enjoy ATV tours for about two hours.
You will be invited to tour through muddy roads, rice fields, rivers, forests to traditional Balinese villages that are still natural so that your trip is not monotonous. You'll also pass through puddles and enjoy views of the surrounding hills.
5. Beach ATV Adventure Bali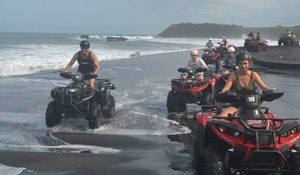 ATV trips are not only in jungles, waterfalls or rivers. You can also enjoy the beauty of the beach while riding an ATV. Beach ATV Adventure Bali is a place you can visit when you want to play Bali ATV on the beach.
Located on the coast of Tabanan Regency, Bali which offers a charming black sand beach. This ATV ride has a long and exciting track. You will pass a track that can be completed within 2 hours and is guided by a professional guide and equipped with safety equipment. Besides the beach, you will also enjoy views of the green rice fields.
Those are 5 lists of ATV Quad Bikes Tour that you can visit while in Bali, you can use the services of Quad Bikes Bali to accompany your trip. You can feel the excitement and adrenaline if you ride the ATV spot above. The most important thing when riding an ATV is safety. Make sure your security devices are properly installed.