12 Best to do In Bali, Whats Place to Visit 2023
Best to do In Bali, Whats Place to Visit 2023. Are you confused about what to do in Bali? Or do you need recommendations for tourist attractions in Bali other than beaches? Relax, apart from the beach, you can also go around nature tourism in Bali using the Bali Quad Bike as well as to drive adrenaline.
Bali has many tourist spots that you can get around by using a Bali Quad ATV. No need to worry that you can't ride an ATV, Bali Quad Bike guide will give you instructions how to drive it.
Apart from natural tourist attractions, Bali also offers places where you can enjoy Balinese culinary specialties. You won't regret choosing Bali as a place to spend time with loved ones.
What to do In Bali and Why You Should Have a Vacation to Bali 2023
Here are 5 reasons why you should have a vacation to Bali at least once in your life.
Complete travel destinations, such as beaches, mountains, nature, culinary, to adrenaline tourism with Bali Quad Bike.
Cross-cultural arts such as Hindu and Buddhist architecture.
Balinese delicious culinary
The people are friendly which makes tourists feel at home in Bali.
Dance attractions which you can find in several tourist attractions in Bali.
12 Best to do In Bali and Best Places to Visit 2023
Below is a list of the 10 best places that are a favorite of tourists.
1. Kuber Bali Adventure ATV
Kuber Bali Adventure has the longest natural tunnel track in Bali. This place is one of the most popular Bali ATV ride tours for now. You can use the Bali Quad Bike to drive along the tunnel track.
There are interesting facilities in this place, one of which is that you can enjoy lunch at a restaurant in the middle of a rice field. Make the audience feel at home for long.
2. Visit Ubud Bali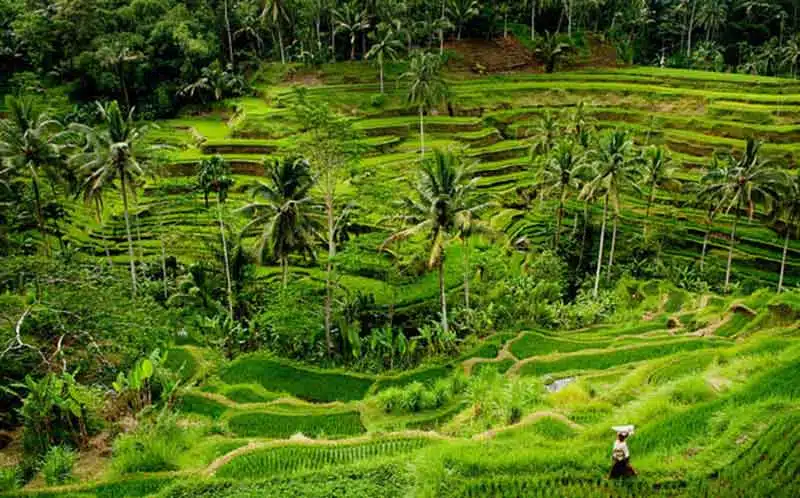 The natural beauty of the surrounding area and the hub of Balinese art and culture are what draw most visitors to Ubud. Things that make tourists interested in having a vacation to Ubud, because they want to see the Tegalalang terraced rice fields, waterfalls, Ayung rafting Ubud, culinary tours and others.
You can also go around several spots in Ubud with a Quadbike Bali to enjoy the beauty of Ubud while driving adrenaline.
3. Visit Kuta Bali
The main attraction of Kuta beach which makes it very popular is the availability of a clean white sand beach, very sloping and wide. In the , the view of the Kuta beach sunset is very beautiful, and this is what many visitors are waiting for.
Additionally, there are several tourist amenities around Kuta Beach, including restaurants, shopping centers, and a ton of fun spots to hang out.
4. Watersport in Tanjung Benoa
Apart from the beach, the attractiveness of the Tanjung Benoa and the availability of water sports activities which is fun are seems exciting for a vacation with a family or lovers, such as parasailing, jet skiing, banana boat, and many others.
5. Visit Lot Temple Tabanan Bali
The main appeal of the Tanah Lot Bali tourist destination lies in the uniqueness of the Tanah Lot temple which is on a large rock. During high tide, the access road to Tanah Lot temple from the beach will be flooded with sea water. Consequently, the Tanah Lot temple seems to be in the midst of the water during high tide.
6. Visit Ulun Danu Temple Bedugul
The main attraction of this place lies in the location of the Ulun Danu temple. Particularly when the fog is falling, the temple's location in the midst of the lake appears to be quite unusual and lovely. The air in the Bedugul region is quite chilly because it is at high altitude.
7. See Sunset at Uluwatu Temple
Uluwatu Bali Temple is very popular with tourists for vacation spots in Bali because:
Visitors can see monkeys.
Can see a very distinctive temple architecture.
Tourists can see the view of the southern sea from the top of a high cliff without any obstructions.
Tourist may enjoy a sunset vista while watching the Uluwatu Kecak fire dance.
8. Visit Kintamani
There are several best things to do that you can enjoy as long as you are in Kintamani, such as:
The air is fresh and cool because it is in the mountains.
Nice view of Batur lake and Mount Batur.
There are natural hot springs, such as Toya Devsya Kintamani and Toya Bungkah Kintamani.
9. Garuda Wisnu Kencana (GWK Bali)
The enormous statue of Garuda Wisnu Kencana, which symbolizes GWK Bali's beauty is the main attraction. Apart from that, in the GWK Bali area there are also many entertainment facilities, such as Kecak dance performance in the afternoon and animated film showing, The Adventures of Little Garuda.
10. Bali Safari Marine Park
Bali Safari Marine Park is a zoo and is favored by tourists who vacation with family and children. If you are planning a family vacation to Bali with children and family, Bali Safari Marine Park can be the best choice.
11. Mount Batur Sunrise Trekking
Mount Batur sunrise trekking Bali, Indonesia is a useful and magical way to start your day. Plus, the amazing sunrise above an altitude of 1,717 meters above the sea level. Because the daytime temperature is high, you have to go up early and you will enjoy the added bonus of catching the sunrise from above.
Mount Batur Trekking starts at 4 am and the sun rises at around 6 in the morning. Therefore we need about 2 hours of climbing to the top of this mountain. To reach the top for the first ray, we must arrive before the sun rises.
Read also : Cheap ATV Package in Bali
With trekking guides who are friendly, motivating, and always stay with us along the way. This local guide does mount Batur climbing every day, so I think we are in quite safe hands.
12. Last Best to do In Bali 2023 is Jungle Swing Ubud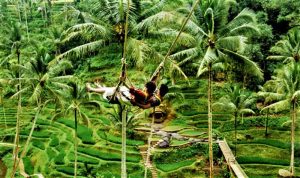 Jungle Swing Ubud Bali gives you a new tourist experience by enjoying panoramic views of Ubud from a different perspective. While spurring your adrenaline while above the height of the swing, you will be amazed by the extraordinary beauty of Ubud before your eyes.
Jungle Swing Ubud Bali is located in the village of Tegalalang dean with a world heritage of terraced rice fields. Bali Quad Biking covers a few unique and thrilling experiences. By combining ATV ride activity with Jungle Swing Ubud Swing. Make your experience unique with several swing choices that you can try.
Despite having different heights, all the swings face an incredible view of Ubud. Also enjoy a few photo points that add to your photo album collection more fully.
So, above are some Best to do In Bali 2023, if you go to Bali, you are guaranteed to get all kinds of tourism, starting from natural charm, culinary delights, to tourist attractions, and adrenaline tour with Best Bali Quad Bike in Bali. so that when you return to Bali, you are truly satisfied.