Mount Batur Sunrise Trekking
Mount Batur sunrise trekking Bali, Indonesia is a useful and magical way to start your day. Plus, the amazing sunrise above an altitude of 1,717 meters above the sea level. Because the daytime temperature is high, you have to go up early and you will enjoy the added bonus of catching the sunrise from above.
Mount Batur Trekking starts at 4 am and the sun rises at around 6 in the morning. Therefore we need about 2 hours of climbing to the top of this mountain. To reach the top for the first ray, we must arrive before the sun rises.
With trekking guides who are friendly, motivating, and always stay with us along the way. This local guide does mount Batur climbing every day, so I think we are in quite safe hands.
In the middle of the trip Mount Batur sunrise trekking , the road became steeper with volcanic debris that was rather difficult. Therefore, it is highly recommended to wear hiking shoes.
When you reach the top of Mount Batur, there is a strange adrenaline that appears. You will see an amazing view that can be seen from the top of Mount Batur. And you will know all that is worth the energy we spend to achieve it. You feel proud.
May be interest with " Mount Batur trekking and Bali Jungle Quad Biking, It is best combination tour for you if you want make your day more fun. The things that you need to prepare before climbing is fit energy, suiter, trekking shoes. Because the climb will be around 2 hours to get to the top.
5 things you need to know before Mount Batur Sunrise Trekking
Here are, 5 things you need to know before Mount Batur Trekking, included what to bring and how to prepare it.
1) How hard is Trekking of Mount Batur Bali?
This is the main question by hikers, the important thing to know is how hard is it going up? If you are active every day and have a decent level of cardio, you certainly will not find difficulties in this situation.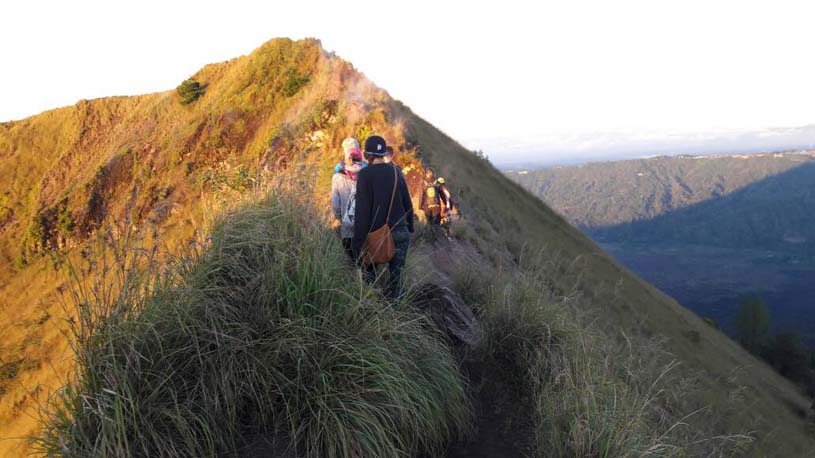 For some people, climbing Mount Batur is about two hours. But if you take less time to rest, the climb will be faster. And you need to know that is hiking a volcano with a height of 1,717 meters, or 5,633 feet above sea level.
How about beginner climbers? For beginners and have a fix condition certainly will not experience difficulties. Because in the trekking has provided 2 resting places before reaching the peak sunrise points. We are sure you can do that easily.
2) What to wear to Mount Batur Trekking Bali ?
The temperature and climate on Mount Batur at night is very cold, around 18 degrees Celsius. Of course, also changes throughout the increase. For this reason, I recommend bringing a sweater or hoodie for cooler times in climbing. Cold weather will occur at the beginning of the climb and at the summit. As long as the hike itself is possible you will take this off. And use comfortable clothes and clothes that you normally use for sports.
3) What should you carry and do you need for trekking?
Bring a backpack and bring your waterproof equipment, extra water, and some snacks, pole, headlight and Camera. If you use the services of a trekking guide, usually all climbing needs are provided. Your guide will give you a headlight or flashlight when trekking.
In addition, your guide will give you 1 bottle of mineral water, but I think it's better to have extra too. At the top, your guide will give you some snacks, such as van cake, milk, tea or coffee and some simple boiled eggs.
4) Camera or Phone
This might be one of the most awesome experiences for you. Therefore carrying a camera, go pro or camera phone is very important. Because the sun rises on the top of Mount Batur is truly amazing. Don't skip it!
5) The best and simplest way to climb Mount Batur
For those of you who want to find the best, simplest and cheapest way to Mount Batur trekking Bali, maybe you can follow this. Book a climb with a local trekking company that offers Mt. Batur trekking service at around Rp. 700,000 per person.
This price includes everything. Including pickup and delivery from Kuta, Seminyak, Sanur, Legian, Canggu, Ubud. In addition, a coffee break before trekking, local trekking guides, water, flashlights, simple breakfast at the peak.
Most local companies accept orders through WhatsApp for many activities in Bali. So do not feel hesitant and strange if this booking is in a simple and easy confirmation.