ATV in Canggu – Best ATV Quad Bike Adventure
ATV Canggu is an adventure tour that you might be asking about and looking for, because you happen to live in the Canggu area. However, in reality there are no ATV companies in Canggu. All Bali ATVs are located in Ubud, Gianyar Bali.
Canggu is an area located on the southwest coast of the island of Bali, Indonesia. This area has become increasingly popular as a tourist destination in recent years because of its beautiful natural charm and relaxed lifestyle.
Canggu is an attractive destination for young people because its popularity continues to increase. Canggu is also becoming more crowded with tourists, because many beach clubs are starting to mold. Of course it will make you bored if you want to find peace.
So if you need a fun adventure in a beautiful rural atmosphere and far from the hustle and bustle of urban life, ATV Quad bike is a good choice. Please order an ATV quad bike from Canggu with Bali Quad Biking. We provide pick-up at several locations including Canggu Bali.
A lots of ATV tours in Bali popping up, and many are similar and offer the same experience. So, we believe Bali Quad Biking is truly natural with a private track in a rural corner with cool and green nature. We have 3 ATV locations with different tracks and different experiences to choose from.
Well, now are you ready to explore the best options. And choose the package to order? Let's dive into the top ATV tour from canggu
Canggu, located in Bali, Indonesia, is a dynamic tourist destination known for its beautiful beaches, surf breaks and relaxed atmosphere. There are many activities to enjoy in and around Canggu. Here are some things you might consider doing:
Surfing: Canggu is famous for its surfing spots. Whether you're a beginner or experienced surfer, you can take lessons or rent a board and ride the waves.
Beach Time: Spend the day relaxing on one of the beautiful beaches such as Batu Bolong Beach, Echo Beach, or Berawa Beach. You can sunbathe, swim or enjoy a massage by the beach.
Canggu Cafes: Canggu is home to many trendy cafes. Enjoy a cup of Balinese coffee, try an exotic smoothie bowl, or enjoy healthy organic food.
Nightlife: Experience Canggu's nightlife by visiting beach clubs and bars such as Old Man's, The Lawn or Finn's Beach Club. Enjoy live music, dancing and socializing with fellow travelers.
Adventure Activities: Take part in activities such as ATV riding from canggu, horseback riding, or hiking in the surrounding countryside to experience the natural beauty of Bali.
ATV Adventure from Canggu Bali
Here are the top ATV tours from Canggu Bali that we have selected for you. Let us help make your vacation epic!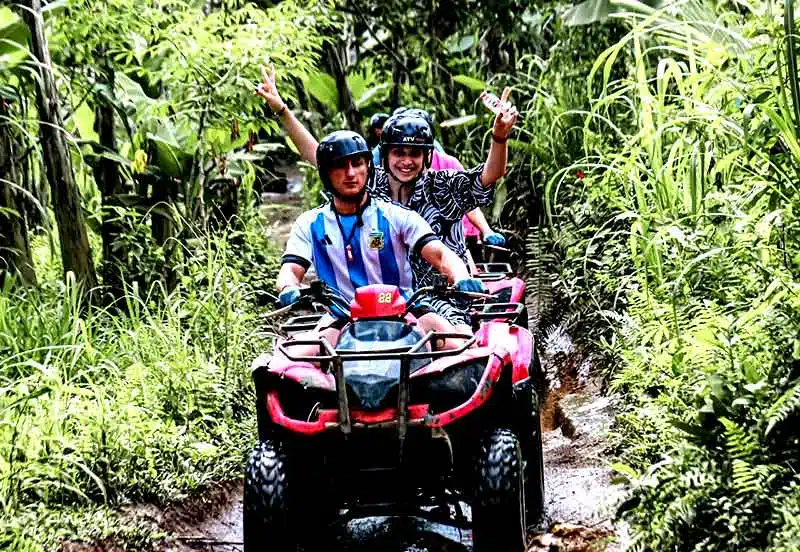 This is one of our top ATV Tours in Bali. Located north of downtown Ubud, about 1 hour 30 minutes from Canggu Area. Our ATV Tour in Bali has various combo options that you can book.
A jungle ATV that has a track length of 8km from start point to finish point. It's quite long, with a tour duration of 1 hour 45 minutes to 2 hours depending on your skills when riding an ATV on a challenging track.
This Bali ATV adventure from Canggu will have you flying along challenging trails that wind through the Balinese countryside. You'll pass through rice fields, bamboo forests, and lush riverside areas flanked by traditional Balinese villages.
Together with an experienced local guide, you will always monitor every enjoyable ATV trip you have.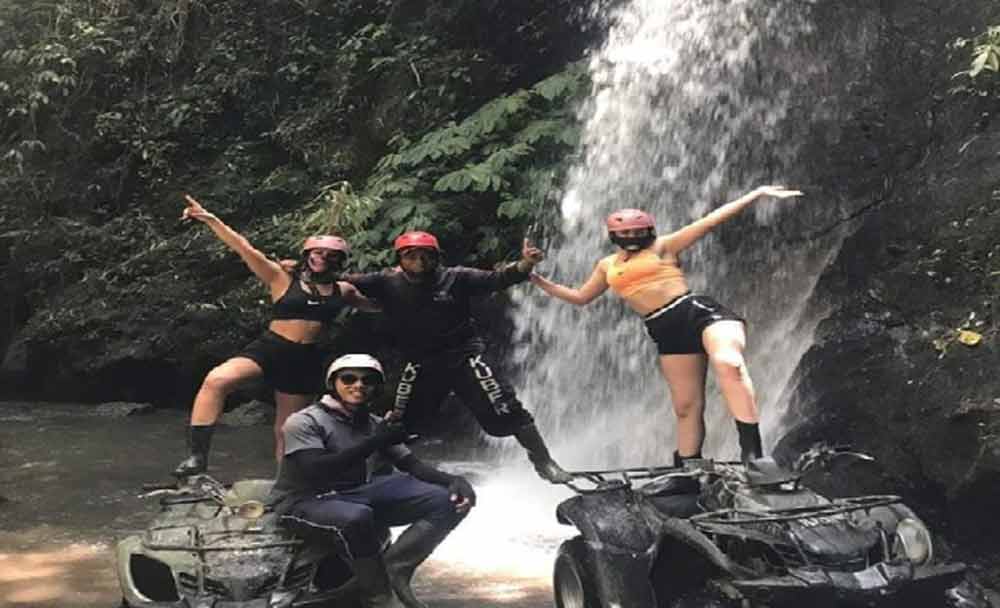 An ATV with a unique track from Canggu. Located 1 hour from Canggu to Bayad Payangan village, Ubud Bali. The ATV adventure activity is a thrilling adventure by riding a 4-wheeled bicycle in the wild in a remote area in Ubud, Bali. This is the best activity choice for those of you who like adventure and want to relieve stress with daily work activities.
An extraordinary experience passing through natural tunnels and waterfalls is the Bali ATV track that we have. Very different from all ATV Quad Bike activity providers in Bali.
Our Bali ATV Tunnel and Waterfall, has a fairly long track through the forest, wide expanses of rice fields, valleys with green panoramas all around. Then you can find plantations with various plants in our ATV tunnel and waterfall track.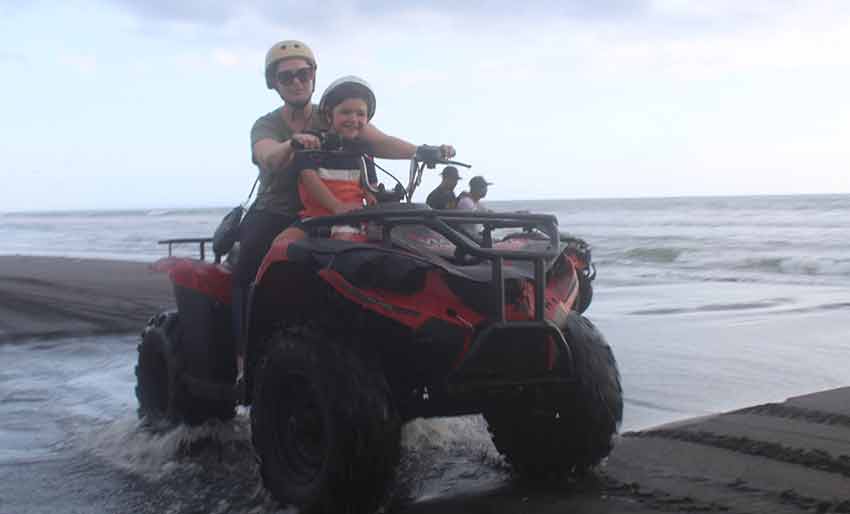 This ATV Beach Tour is located in Tibu Mengkeb Tabanan Bali, around 1 hour 30 minutes drive if you are from Canggu Bali. However, during this beach ATV tour, you will momentarily forget about the relaxation and adrenaline as you speed along the black sand beaches, villages, rice fields and corn plantations that you will pass by on your ATV!
This Bali Beach ATV adventure starts from Tegal Mengkeb village, where a volcanic beach with stretches of black sand awaits.
This is a high-octane tour that is ideal for adrenaline lovers and those of you looking for a different side of Bali.
You'll have plenty of opportunities to take stunning photos along the way and enjoy the stunning viewpoints that grace your path.
Don't miss this exciting ATV ride that promises fun, amazing views and unforgettable memories in Bali!
Best ATV Package form Sanur
Apart from the single activity for ATVs above that you can take from Canggu, we also have several combination ATV packages that you can join with the best service and guaranteed cheaper prices.
Get an exciting experience by pumping your adrenaline with the Bali ATV Ride and White Water Rafting adventure tour combo from canggu. This is the most popular combo tour package and you will have a great day!
You will experience the thrill of rafting on the Ayung River while walking down hidden waterfalls and enjoy a refreshing swim in the river.
After that, enjoy your buffet lunch at a local restaurant with stunning jungle views before getting ready to ride an ATV through the Balinese countryside.
Explore remote places as you drive through rice fields, bamboo forests and traditional Balinese villages. Whether you choose to ride alone or as a couple, this ATV adventure promises to be both fun and breathtaking.
Want to try the best experience in the rural nature of Bali with this Bali ATV Ride, Jungle Swing, and Rice Terrace Tour? Leave Bali's cities, beaches and bustling centers behind, as our private driver takes you on a thrilling ATV ride through the cool and green countryside.
On this tour, you will explore forests, rivers, villages, valleys and plantations. Feel the adrenaline rush as you explore the beautiful landscape.
Next, fly high above the forest and rice fields by swinging in the open at Tegalalang Ubud Bali. There, you can take amazing photos and enjoy the panoramic views of the rice fields and forests below.
After that, you will continue your adventure by visiting the famous Tegalalang Rice Terraces, where you can enjoy the beauty of the lush green rice fields and even meet local farmers.
Let's Enjoy the natural beauty of the Balinese countryside, discover hidden gems, and create lasting memories in this comprehensive tour.
Bali ATV Quad Bike Tour and Mount Batur Sunrise Trekking is one of the Bali Atv tour packages. Which offers the best rates and the best combination for Mount batur trekking and Bali ATV Quad Bike tour.
Leave your deep sleep when the driver picks you up for a trip to the volcano in Kintamani. Next we will climb Mount Batur, after that we will stop at our base camp for a coffee break. You will be welcomed by our expert and friendly Mount Batur local trekking guide. The aide will issue some safety data and will flash you a firelight as your eyes during the trekking.
At the point of sunrise you will start to enjoy and enjoy the amazing view at the top of Mount Batur. The trekking guide will provide a simple breakfast served on the mountain. After breakfast and taking pictures, we will descend and return to the mountainside.
Enjoy a cup of coffee or tea before our friendly professional Atv Quad Bike guide provides some safety instructions for the Bali Atv quad bike. The adventure will begin through rice fields, plantations, bamboo forests, forests, rivers, villages and beautiful panoramas. it's more challenging. Our instructors will guide you through some of the most technical terrain our site has to offer.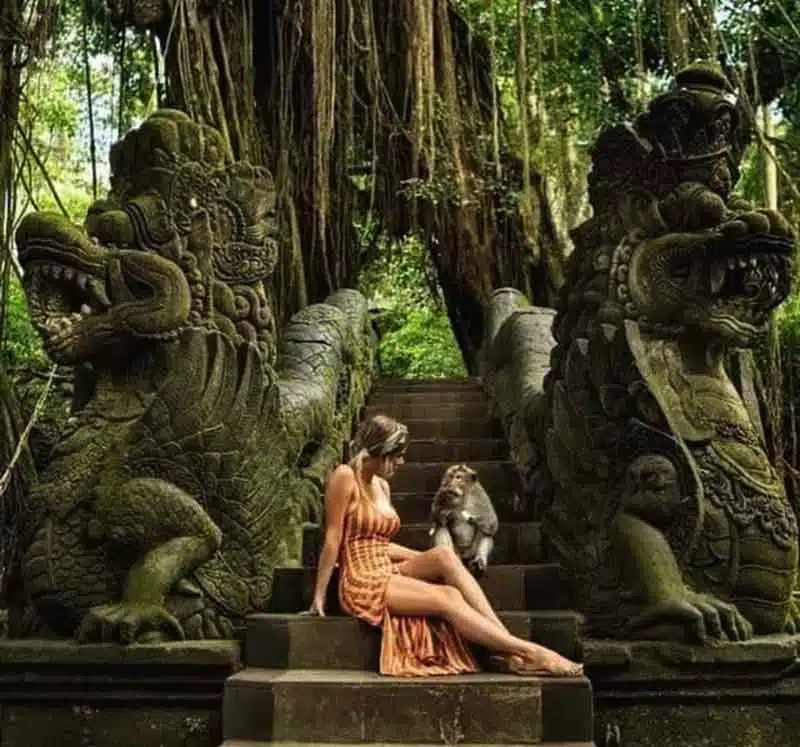 Let's join Bali ATV Quad Bike adventure with the Monkey Forest and Ubud Temple Tour to make your day enjoyable. The best package for real jungle adventure. Passing through rice fields, forests, plantations, rivers, bamboo forests and villages will give you a different experience. Then visit Ubud's most popular Sacred Monkey Forest and Tritunggal Batuan Temple.
Our friendly private driver and comfortable minivan and start the journey to the Ubud area. Enjoy quad bike riding in the lush green forest of Ubud by visiting the Monkey Forest and the Trinity Batuan Temple.
Explore Bali's wild nature and rural life in a different way, discover and get your adrenaline pumping by driving on mud and rivers that will give you an unforgettable experience.
When finished you can refresh your body with a shower and enjoy lunch. Next, you will visit the sacred monkey forest to see more than 600 long-tailed macaques living in the wild.
Get up close and personal with the monkeys with the help of your guide. Then, stop at Batuan Temple to see and learn about Balinese traditions and witness their traditional architecture.
Bali ATV Quad Bike with Hidden Canyon Tour is a unique experience that you won't get anywhere else. Super-saving tour packages with quad bike adventures and hidden canyon tours in Ubud Bali.
Enjoy a relaxing trip to the hill country far from the center of the crowd. And then follow the experienced guide along the challenging trails.
This activity is of course suitable for all skill levels. Quad Biking trip through the beautiful scenery of rice fields, bamboo forests. Then the swift river flows flanked by traditional Balinese villages.
Enjoy your lunch served after ATV Tours in Bali. Then the driver takes you to the Hidden Canyon Sukawati Bali. Hidden Canyon Beji Guwang Sukawati is one of the most interesting tourist destinations in Bali.
Its location is indeed hidden, so it's no wonder that foreign tourists call it the Hidden Canyon. This gorge was formed from the erosion of river water, in the form of a deep and narrow valley. Here man must allow himself to unite with nature.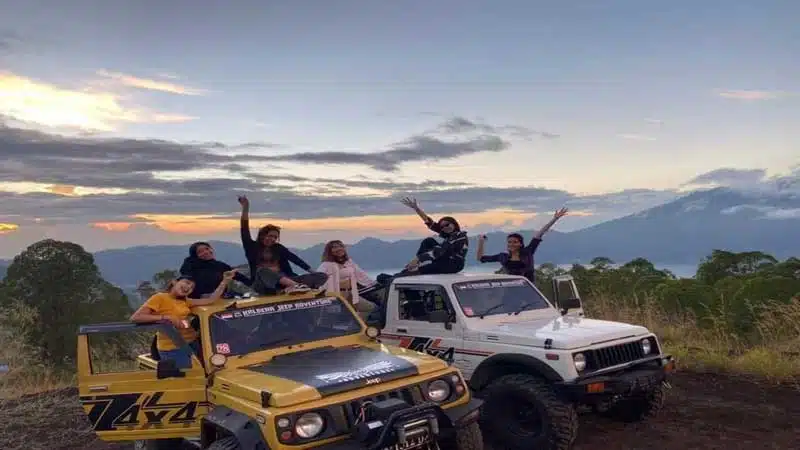 Mount Batur Jeep Tour and ATV Quad Bike is the latest atv quad bike package which is the best choice if you are a lover of the sunrise on Mount Batur with a 4×4 jeep.
If you've ever thought about having a unique and exciting experience in Bali, you need to take a Bali quad bike and sunrise volcano jeep tour.
If you are interested in visiting Mount Batur, the first thing you need to do is take the Mount Batur Jeep Tour or what is known as the Bali Sunrise Volcano Jeep Tour.
On this tour, we invite you to ride a Jeep from under the mountain. Starting early in the morning, because we will see the sun rising above an altitude of 1,500 meters above sea level
Where the sun rises, you can take lots of beautiful photos. That way, you can share it with all your family and friends. You can even have breakfast while enjoying the incredible view. It will be a very unique experience like no other.
The next part of the Mount Batur Jeep and ATV quad bike Bali Tour is to do an atv tour on Balaji ATV quad bike riding in the countryside of Ubud. Where you will be invited to explore the beautiful countryside with an ATV Quad Bike. Drive through plantations, valleys, bamboo forests, rivers, hills and mud.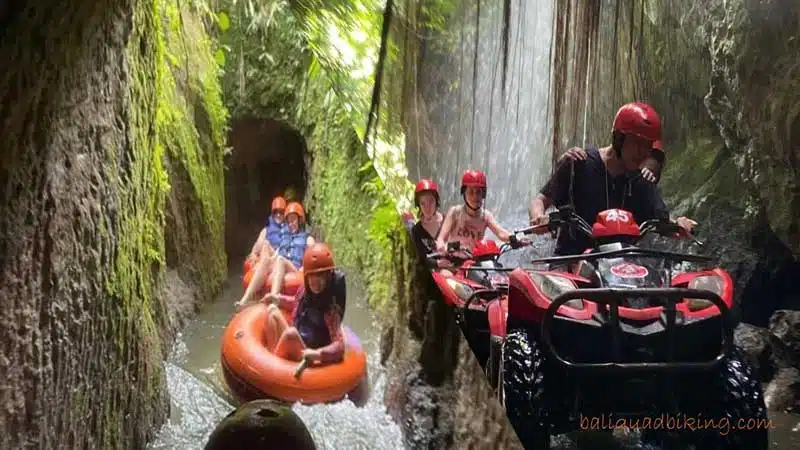 Try new things with the ATV Quad Bike and Cave Tubing Ubud Bali, an ATV tour package that is in great demand by Australians and many tourists who like outdoor adventures. This is an extraordinary adventure to fill your holiday in Bali.
Conquer the muddy ATV terrain, then pass inclines, valleys, forests, rice fields and residents' villages. No less interesting you have to pass through waterfalls and tunnels in the forest. That's the atv track that you will get for the ATV Quad Bike and Cave Tubing Ubud packages.
Pick-up by private car and a friendly driver to the Ubud area to do the ATV Quad Bike tour. Be sure to always listen to your guide's instructions on safe and enjoyable driving. Use safety equipment before we leave (helmet and boots). Find lots of interesting exciting things for 1 hour 30 minutes on the ATV Quad Bike tour Ubud Bali.
FQA ( Frequently Asked Questions )
Canggu ATV Tour Conclusion
Bali Quad Biking offers a variety of thrilling quad bike tours from canggu Bali with adventure and fun for all. From passing through forests, villages, valleys, to exploring hidden canyons and crossing beautiful rice fields, there is an ATV tour to suit every adrenaline seeker in Bali.
With experienced ATV guides, the best equipment and stunning views, the best ATV tours in Bali provide an exciting experience that will leave unforgettable memories while you are on this island of Bali.
Let's get ready to jump in and start your engine and start an exciting ATV adventure in Canggu Bali!