Bali Bird Park Gianyar – Location and Ticket Price
Bali Bird Park Gianyar – Location and Ticket Price. If you and your children love animals, especially birds, then while on vacation in Bali, visiting the Bali Bird Park is best activity have to do.
Because at the Bali bird park, you can immediately see many types of birds, especially rare types of birds.
We review about this park because we have package for Bali Jungle Quad Biking + Bali Bird Park Tour this package is perfect double activities in Bali. This package offers you with cheap price as well.
What is Bali Bird Park?
Bali Bird Park was built around 20 years ago, and opened in 1994. Bali Bird Park is a recreational object, opened for the first time and is one of the largest bird parks in Indonesia.
The Bali bird park is built on a two hectare wide area, and has a wide variety of bird collections. Both local birds or from birds from abroad.
How many birds are there in the Bali Bird Park?
Approximately 1,000 birds of 250 species are kept in the Bali Bird Park. Such as birds of paradise, kaswari, pigeons, pelicans, storks, parrots and other poultry.
Bali bird park, as one of the most favorite recreational objects for travelers who vacation to Bali with family and children. Bali bird park is famous for its rare bird, the Bali Starling.
Travelers who visited before the Covid-19 outbreak every day reached 300-400 people. What's more, during the school holiday season and Eid al-Fitr, the Bali bird park will be crowded with tourists. In addition to watching various types of birds, visitors to the Bali bird park can pose – take photos with birds.
Location of Bali Bird Park
Bali Bird Park (Bali Bird Park) is located on Jalan Serma Cok Ngurah Gambir, Singapadu, Batubulan, Gianyar regency – Bali. About 10 km to the east of Denpasar city with a travel time of 45 minutes from Ngurah Rai Airport, via Prof Ida Bagus Mantra By Pass road.
If you spend the night in the tourist area of Ubud or close to the Ubud Monkey Forest tourist spot. In the direction of the Gianyar Bird Park Bali from Monkey Forest Ubud it will take a distance of 11 km, the same time taking 30 minutes.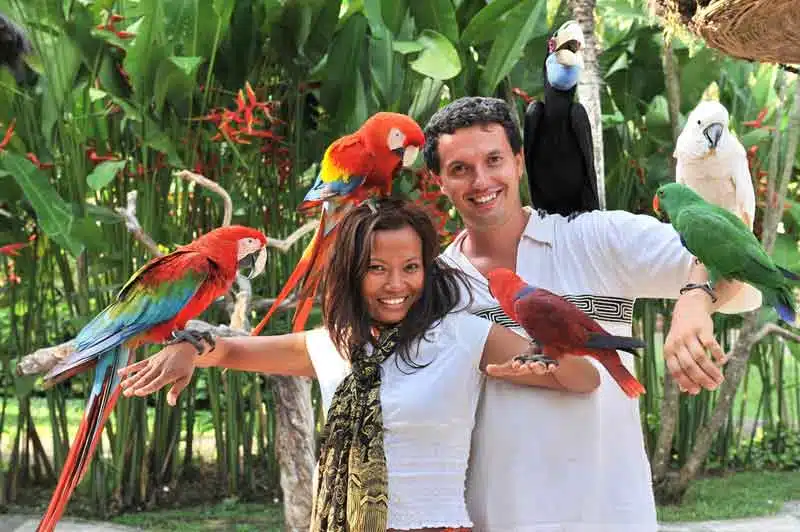 Bird Type Collection
Bali bird park, has the most complete collection of birds. Bird collections come from abroad and of course there are also birds from Indonesia. Bali Bird park is divided into equal parts according to the bird. The community is set up to be like the original community from the origin of the bird.
Birds from South America such as the Skarlet Macaw and the Hyacinth Macaw (the largest parrot in the world). Birds from southern Africa such as the African gray parrot are popular for their power to follow the human voice. I personally have never seen the number of parrots around in the Bali Bird Park.
So if you like watching large parrots with several types of colors, then you must visit the Bali Bird Park. Birds from Sumatra, such as the Crimson Wing Parakeet and Eagle Owl, are unique with their slanted ear bumps and the strongest claws.
Birds from Borneo such as the Golden Junai bird, Borneo pheasant, Bido snake-eagle. Furthermore, birds from Papua such as the Cassowary and Mambruk Ubiaat. Birds from Java such as the Javan Eagle, Bido snake-eagle and Birds from Bali such as the Bali Starling.
Recreation at the Singapadu bird park is more of a teaching nature for children. Children will recognize birds, love animals, protect nature, and take care of very rare birds so that the community does not perish.
Bali Bird Park Activities and Shows
Apart from watching many types of birds, you can also watch the attractions. The demonstrations and relationships provided by the Bali Bird Park will be enjoyed by visitors, especially children. Each show at the Bali Bird Park Gianyar is held every day with a specific agenda.
If you want to know the agenda for the show at the Gianyar Bird Park, ask to see the photo above. The following types of activities and performances are available at the Bali Bird Park.
Bali Rainforest – This show will show visitors, parrots and cranes doing flying shows.
Basic Instinct – Shows birds of prey such as eagles and owls, which fly then dive down when catching prey.
4D Theater – In this place you can immediately see a 4-dimensional film about birds.
Komodo Experience – This activity will show officers feeding Komodo dragons. Please write, the Komodo Experience attraction is only available on Tuesdays at 11:00 and Fridays at 14:30.
Guyu Guyu Corner – At the Guyu Guyu Corner show, you will have the opportunity to do a photo session with birds. Parrots that have colorful feathers will perch on your shoulders, and you can pose with the birds.
Papua Rainforest Feed – This attraction will show officers feeding exotic birds from Papua.
Lory Feeding – Feeding Lorikeets / Parrots. The Bali Bird Park staff will give you and your children the opportunity to feed the Lorikeets.
Meet the Bird Stars – In this show, there will be a performance of the Black Palm Cockatoo which has been clever in luring visitors.
Pelican Feeding – Feeding Pelicans, In this show, you will be given the opportunity to throw some fish, for Pelican food
Bali Bird Park 2022 Entrance Ticket Prices
Domestik Price : Adults IDR 140,000/person.- Child IDR 70.000/child
Overseas Rate : Adult IDR 119,000/pax – Child IDR 59,500/person and Free for Baby
Other Activities you can do beside visit this bali bird park, such us; Bali Zoo Park with more than thausand animal life in this park. Other activity is ayung river rafting. The both activities location near by this park.
Recommended Our ATV Quad Bike
Balaji ATV Quad Bike is our longest ATV Track in Bali. This is not really extreme like Kuber ATV. Through plantation, jungle, valley, bamboo forest, mud and hill. BALAJI ATV …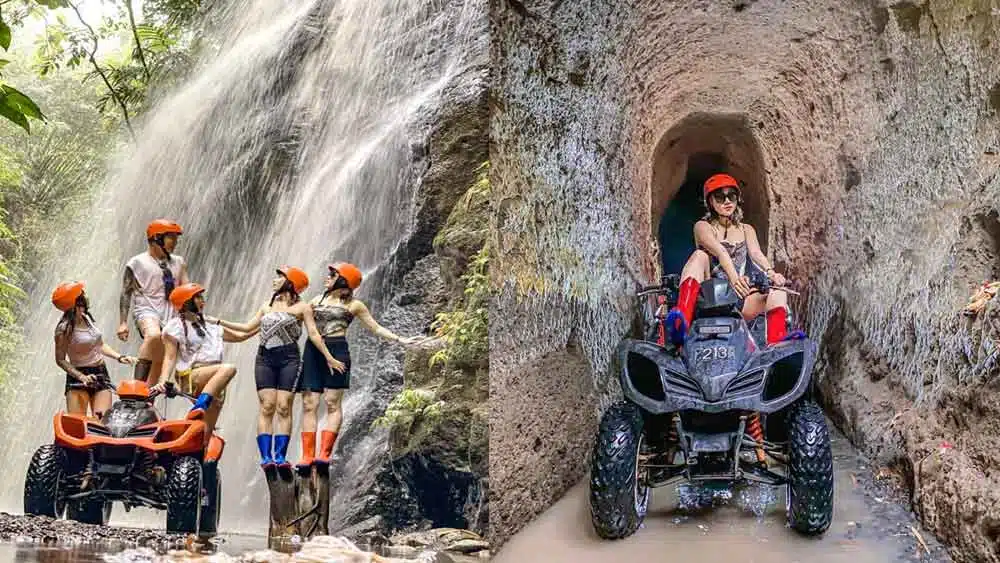 Kuber Bali ATV Quad Bike is the best ATV Track in Bali. through rice paddies, valley, jungle, river, waterfall cave and mud. This availabe for combine with blue lagoon snorkeling. KUBER BALI ATV …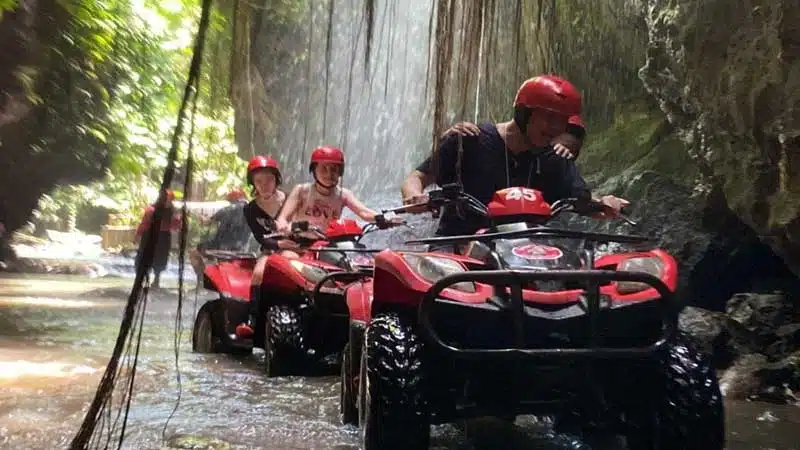 Jambe Bali ATV Quad Bike is new our ATV Track with mud, rice paddies, villages, Rice paddies, valley, river, waterfall and short cave. This ATV also available for combine . JAMBE ATV ADVENTURE …
ATV Beach Bali not available for combine with snorkeling Blue Lagoon. Because long distance. Our ATV Beach location in Tabanan with black sand beach and family ATV. BEACH ATV BALI …