Bali ATV Ride Ubud | Best ATV Quad Bike Ride in Bali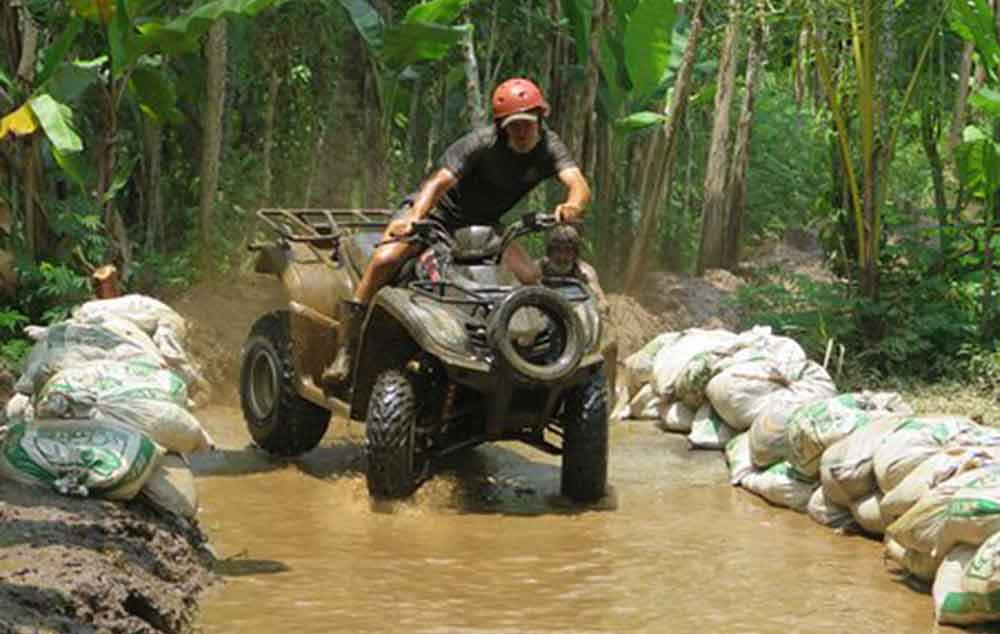 Bali ATV ride Ubud now has been the popular activity for your holiday or vacation. Many things you can do and enjoy when you ride the ATV. So, it is good for you to know everything related to this Bali ATV ride in Ubud Bali. What are they? Check it out!
The sensation when enjoying the ATV
When watching an art show or stopping by a painting gallery in Ubud, it sounds normal, how about driving an ATV on a steep, perforated and sometimes muddy Ubud trajectory? While you are enjoying an off-road sensations which is perfectly amusing in Bali ATV ride Ubud, you are invited to take an adventure using a vehicle like a four-wheeled motorcycle to explore the beauty of Ubud Village! Don't forget to bring a change of clothes, because you will pass a lot of unexpected muddy terrain. Get ready to be happy and have fun!
Even though it is through extreme terrain, there is always a spot of beautiful natures that we meet in Ubud Bali where we immediately forget that we are ATV Ride.
What things should be brought in ATV ride Ubud?
Before getting some challenges in riding the ATV in Ubud, you should consider what things that you exactly should bring in Bali ATV ride Ubud. What are they? They are:
Change Clothes
Adequate cash
Sunblock
Please do not wear excessive jewelry to avoid losing
Preparation before ATV Quad Bike Activities
Have you never ridden an ATV before? Take it easy, you will be given a basic way of riding an ATV. Riding an ATV It's quite easy, there are provided 2 types of ATVs, namely ATV Single and Tandem 250 CC, There are only a few important controls such as brakes and gas through a starter type button. To turn left or right, turn the handlebar powerfully in the desired direction. In this session, make good use of getting to know your vehicle. If it's ok, your adventure of Bali ATV ride Ubud will just start.
Starting the adventure of ATV
From the Starting point, we will go to the rice fields, by passing through the settlement and going down the main road. We began to explore a small road the size of an ATV, adrenaline began to be tested. Focus on the vehicle becomes important, not to be careless at all.
The challenges
One of the first challenges is that the slope is quite steep and over the small bridge of the size just as it is right, tightly. But, be calm! The guide will direct us and keep everything safe in Bali ATV ride Ubud. Then, after enjoying a time-consuming challenge you can take a photo as you like.
Enjoy the rural atmosphere
Do you know what to enjoy? Well, after that you ride the ATV while enjoying the activities of the Balinese people in the rice fields, along the embankments, on the way there is always me hello and hi from the friendly locals who are continuing the challenging tan. To get the best guide in order that you can enjoy your trip in ATV Ride, you can use the service of Bali Quad Biking.
Bali Quad Biking is an official ATV operator company located in Bali that can guide you to the Bali ATV ride in Ubud. Located far from the center of the crowd with the atmosphere of a natural green forest. By providing 2 different track locations that you can choose according to your interests. Among of them :
First, the jungle track, truly natural with with length of trek 9km, through tropical rain forests, bamboo forests, rivers, valleys, local villages, rice fields, hills and mud. See detail
Second, a shorter track with with length of trek 4km across forests, plantations, rivers, tunnels (caves) of local villages, waterfalls. See detail
Well, make your day more enjoyable by join and choose ATV Ride Ubud by choosing the track we have. So, go to Bali ATV Bike Ubud now!