ATV in Ubud Bali – Things to Know before Join ATV
Things to Know before Join ATV in Ubud Bali –  ATV or All Terrain Vehicle is one of the popular tourist activities in Bali. ATV is a four-wheeled vehicle specifically designed for driving on difficult terrain, such as dirt, sand and hills. In Bali, visitors can enjoy the experience of riding an ATV through challenging and beautiful off-road tracks.
All-terrain vehicle is one of the most popular tourist activities in Bali. ATV allows visitors to explore Bali's nature and landscapes in a unique and fun way
Here are things to know before join atv in Ubud, Bali
Before joint our atv in Ubud Bali, some reason why ATV Bali become famous choice for adventure in Bali. Below are they, such us;
The uniqueness of ATV Ubud
The ATV Quad Bike has a different design from ordinary motorbikes, with wide wheels and strong suspension, so it can overcome difficult terrain with ease. With challenging tracks in the beautiful countryside of Ubud if you join Jungle ATV. And the countryside with views of rice fields and black sand if you join the beach ATV
Where to try ATV
Several ATV locations in Bali, such as Ubud, Payangan, Tabanan. There are currently several ATV spots that you can choose from, such as the Ubud area with rural natural trails, Payangan with hilly tracks, Tabanan with black sand beach tracks.
Off-road Tracks
Bali's off-road trails range in difficulty from easy to difficult. The trails wind through forests, hillsides and farmland, offering beautiful and challenging views.
Challenging tracks that can only be passed by a special bike with a 250cc engine capacity. With mud trails, ascents and descents, rivers, forests and difficult terrain to the easiest.
Safety Equipment
Visitors should wear comfortable clothing and bring personal equipment such as a hat, sunglasses and a pair of gloves. Safety is important when riding an ATV. Places to rent ATVs in Bali usually provide good training and safety equipment.
Rental ATV Ubud Prices
ATV rental prices in Bali vary depending on the type of vehicle, the route taken, and the length of the rental period. The average rental price ranges from IDR 550,000 to IDR 950,000 per trip. This prices vary depending on the location and duration of the tour
ATV Tour packages
Several places to rent ATVs offer tour packages that include ATV rental, meals, and tour guides. This package can be a good choice for those who want to enjoy a complete and easy travel experience.
Duration
Playing atv in Ubud can be in 1 hour, 1 hour 30 minutes to 2 hours. During the trip time of this Bali ATV adventure, you will be presented with a panoramic view of the beautiful countryside and cool nature, including training sessions and tours.
Skills
The track for ATV are suitable for people with beginner,  little riding experience or professional one, although instructors will provide training before the tour begins.
Rent an ATV in Ubud Bali provides a fun and challenging driving experience. Passanger can control the vehicle freely, enjoy the natural surroundings, and feel the adrenaline.
Routes
ATV routes are varied. ATV Bali has a variety of routes, ranging from villages, villages, forests, rivers, valleys, waterfalls, caves and mud. Besides that, Bali quad biking also has a black sand beach track.
Environment
ATVs provide a unique experience to explore Balinese nature and culture, and help protect the environment in a friendly way during the tour.
Photography
On ATV Ubud Bali will provide a great opportunity to take photos and videos of the beautiful scenery during the ATV tour. Passed many challenging obstacles.
Recommendations
ATVs are a fun activity to do while on holiday in Bali, especially for those looking for a different experience from a beach or city tour. By following the instructor's directions and adhering to safety policies, ATV in Ubud Bali are a safe and fun activity to do in Bali. Don't hesitate to try this activity and explore the island of Bali from a different perspective.
Whats You Need to Bring?
Beside Bali ATV Ride Guide, there are several other equipment that you can bring before your adventure through the amazing nature with an ATV from Bali ATV adventure rental. Here are some important equipment that you can prepare.
1. A Change of Clothes and a Plastic Bag
When crossing rivers or other bodies of water, your clothes may get wet. You can store wet clothes in plastic for convenience. And don't wet other equipment.
2. Sunscreen
Riding an ATV in Ubud during the day will certainly feel very pleasant because the atmosphere is very bright and makes you excited. However, skin health must also be considered.
Bring sunscreen to protect your skin from the heat of the sun's ultraviolet rays. In addition, it will feel cooler on the skin so that the adventure feels more enjoyable.
Recommended ATV Track in Bali We Have
Bali Quad Bike has several atv tracks that you can choose according to your interests and budget, ranging from the best to the safest. All that is only available at BaliQuadBiking.com Let's see the details below
1. Kuber Bali ATV – ATV Waterfall and Cave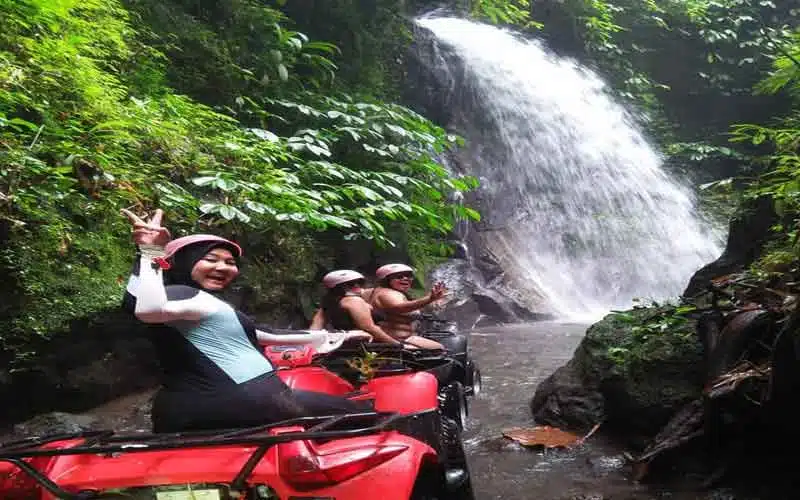 The first one is ATV through Tunnel and Waterfall. Kuber Bali ATV Adventure is the best for ATV Ubud Bali in this time. It'll make your day more impressive experience to try Bali ATV Ride Ubud Bali. Treat and test your courage and adrenaline in the four Quad bike adventure whist enjoying the panorama of the countryside of Bali.
Accompanied by professional local guide. Ride your ATV passed through rice paddy, villages, plantation, jungle, river, Waterfall and Cave.
7 km natural atv track will give you an awesome experience. Pass through the green rice fields, then down the valley for a forest trail. Then ride the ATV on the plantation as well as the river. Passing waterfalls and caves is a track that you won't find anywhere else, except at Kuber Bali ATV
2. Balaji ATV Adventure – Real Jungle ATV Quad Bike ( 9km )
This is the longest ATV Track in Bali – Balaji ATV Adventure Located in the hills just about 90 minutes north of the Airport Ngurah Rai Bali. Find the Quad bike jungle tour in Bali. We have long trek in natural environment is very cool and picturesque panorama.
Get yourself ready for our 9 kms ATV track through the jungle and rice field. Located in the remote area of Gianyar Regency, 30 minutes from Ubud, We are offer great experience into the wild nature of Bali.
Take you to an amazing experience riding on all-terrain vehicles (quad bike) with long and challenging track along the rice fields, jungle, rivers, and natural Bali traditional village that are not monotone. It's safe and suitable for beginner and professional.
3. Beach ATV Bali

Safe ATV in Bali. Riding an ATV on a black sand beach in Bali. Bali Quad Biking On The Beach is a different experience for Quad Biking in Bali.
Ride ATVs along countless miles of secluded black sand beaches. Then ride through beautiful world heritage listed rice fields. And off the jungle track and down through the local traditional villages then back to the beach.
Along the way you will see temples built on the beach for local ceremonies. Stunning rock formations, river crossings, local fishermen, children and families swimming and bathing in the rivers and lakes along the coast. Local farmers take care of their rice fields and local produce.
You can also meet children playing and riding bicycles along the track to the beach, local people and children will greet you around the local village, if you are lucky, you will see a local ceremony or ride a local horse on the beach. This exciting and safest experience is only on the beach atv bali by bali quad biking.
4. Jambe ATV Bali – Cheaper ATV Waterfall and Cave in Bali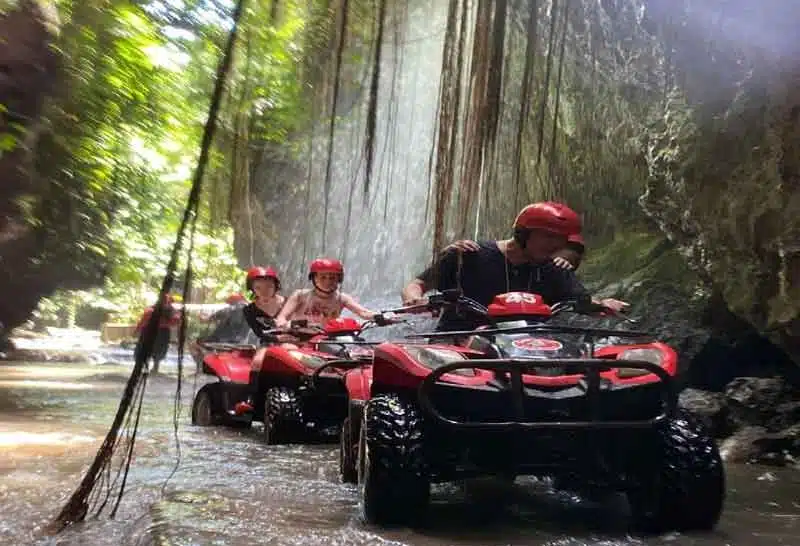 This is the second waterfall and cave track besides Kuber ATV. Jambe Asri ATV Bali Adventure is the answer for atv quad bike lovers who want to play atv without having to travel far to the atv location. However, now we are closer to Kuta Bali. We have the same trail as Kuber, namely natural waterfalls and tunnels.
Jambe ATV Bali Adventure also offers quite long ATV tracks with a duration of up to 2 hours. We are sure that someone will be satisfied with this adventure. With a uniqueness that you won't find in other locations, namely when you enter a long tunnel while riding your ATV quad bike.
In addition, you will also be spoiled with beautiful and green countryside with wide expanses of rice fields. You will always find various challenges that stimulate adrenaline, such as tracks in river areas, muddy and slippery ground and valleys that you have to conquer when you try to ride an ATV at Jambe ATV Adventure.
Well.. that's the Bali ATV Ride Guide, hopefully this can add information about how to safely ride an atv in Bali, what to bring and recommendations for the best atv in Bali.
Have Question and Booking ATV Bali
Please send us require sent via Email, Text, Phone, or WhatsApp.
After we received your Tour or Activity booking request we will reconfirm again your booking request, to make sure all request is correct.
Make sure you put valid email address, so we can reply after received your Tour or Activity booking request.
E-mail : baliquadbiking@gmail.com
Quick Respond WhatsApp on +6281236194398