Family Quad Biking Bali
Family Quad Biking Bali,Talking about quad biking for families, of course, the reasons are safety and path. With us you don't need to worry or be confused to find a quad biking family in Bali. With international safety standards, experienced ATV ride tour guides and ATV tracks that are designed more fun are perfect for family adventures.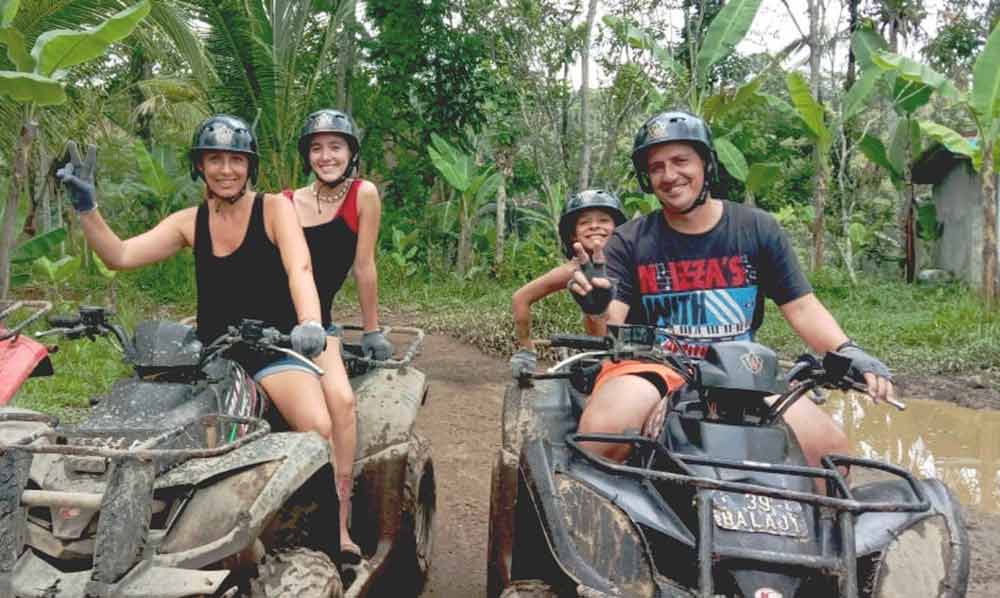 The tracks are safe and do not use the extreme concept by crossing plantations, bamboo forests, valleys, hills and mud. All of that is made in the green nature of mountains, forests and countryside. Of course we have a different track length from the ATV ride provider in Bali.
First we will provide guidance on how to drive an ATV Quad bike to your family. Then give an experiment about 500 meters to drive an ATV Quad bike. After that, surely your family will be more confident to conquer our trajectory.
In addition, safety equipment and insurance are also provided to your family. Of course our guides will always ensure the best and safe adventure you will get in a quad biking family in Bali.
Some things you need to know before the Family quad biking Bali
Have you ever ridden an ATV before? Take it easy, you will be given the basic way to drive an ATV. Driving an ATV It's easy, there are 2 types of ATVs, namely Single ATV Ride and Tandem ATV Ride.
There are only a few important controls such as brakes and gas through the starter type button. To turn left or right, turn the handlebar firmly in the desired direction. In this session, take advantage to get to know your vehicle. If that's okay, your adventure to ride a Bali ATV Ubud will just begin.
What things should be brought in ATV ride Ubud?
Before getting some challenges in riding the ATV in Ubud, you should consider what things that you exactly should bring in Bali ATV ride Ubud. What are they? They are:
Change Clothes
Adequate cash
Sunblock
Please do not wear excessive jewelry to avoid losing
Bali Quad Biking is an official ATV operator company located in Bali that can guide you to the family ATV ride in Ubud. Located far from the center of the crowd with the atmosphere of a natural green forest.
By providing different jungle track, truly natural with with length of trek 9km. Through tropical rain forests, bamboo forests, rivers, valleys, local villages, rice fields, hills and mud. See detail ATV ride tour for Family
Info and Booking please Contact Us
After you knew the advantages of each ATV track that we have, you can determine the choice of ATV ride adventure in Bali. which one you want to take, FOR LAST MINUTE Booking, please send your request via WhatsApp/Viber: +62 81236194398