Best Quad Bike Tour Bali | Bali Quad Biking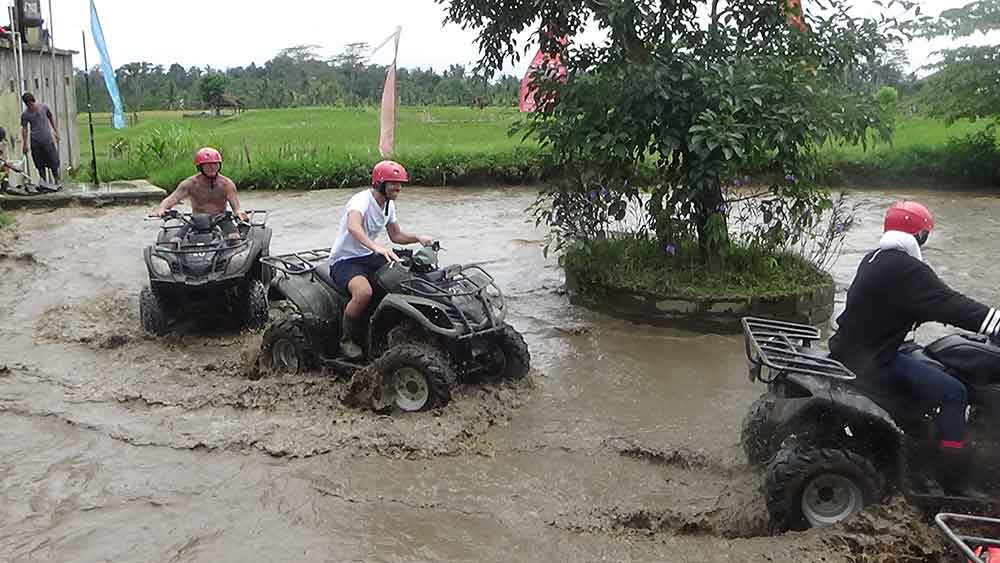 Bali Quad Biking offers the Best Quad Bike Tour in Bali, with the longest and truly natural trajectory is our advantage, compared to the quad bike company in Bali. Bali Quad Biking have a track length of approximately 8 km in hilly areas.
With good bike quality, it will make your adventure more comfortable and enjoyable. Of course also with a friendly and professional guide team. Run your bike down the valley, through the river, bamboo forest, green plantations with fresh air. Take your rest on the hills against the backdrop of forests and rice fields. Complete your adventure with a muddy 500-meter track, this is the last track before you arrive at the finish point.
Best Quad Bike Tour Bali, services ranging from pick up by private car from your hotel, see beautiful and green scenery all the way to our place. Enjoy a welcome drink and get a brief explanation of security in quad bike tracks. This service include private hotel transfer and Lunch.
Discover the side in Bali and the hidden beauty of the island of Bali in a different way. get the excitement of driving a powerful semi-automatic ATV 250 cc in the middle of the most amazing Balinese countryside. Bali ATV Tour Activities are daily trips, dry season or rain. Safe for beginner and professional one ..
What do you need to bring?
Additional clothes, because on the last trip we invited you to join playing mud, it'll make you have more fun after the jungle treck.
Sun Cream, the weather in Bali lately is rather hot, sun cream is the best solution for your skin
Additional money, Quad Bike ride is rather tiring, so we provide cold drinks at the rest point, of course you have to spend a little money on your small expenses.
What Include ?
Private hotel transfer
Welcome drink
Boots
Towel & Shower Room
Lunch
Personal Insurance
Professional ATV Guide
Best Quad Bike Tour Bali, Location
For support your mind, Bali Quad Biking offer you 2 options track for this adventure. Each location has different trajectory. for detail please check below !
1. Balaji Quad Bike Adventure
Balaji Quad Bike Adventure have long trek in natural environment is very cool and picturesque panorama, with 8 km trajectory down the valley, through the river, bamboo forest, green plantations with fresh air and Muddy track.
Kuber Bali Adventure have shorter track than balaji but have advantage with Waterfall and Cave, rice paddy, villages, plantation, jungle and river. The track more extreme Suggest for Professional ride but still Ok for beginner as long as following the Guide.