Bali Quad Bike Adventure Tour Price – Cheapest ATV Ride in Bali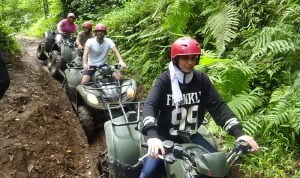 Bali Quad Bike Adventure Tour Price – Cheapest ATV Ride in Bali. Are you looking for challenging adventures in the outdoors in Bali. Bali Quad Bike Adventure Tour is the solution. Located in the hills far from the hustle and bustle of the urban atmosphere. Where tropical rainforests are one of the trajectories. And also green plantations, rivers, rice fields and bamboo forests are the supporting paths of this activity.
Here, you can find the longest and most exotic Quad Bike adventure tour. We have a long track in a very cool natural environment and a beautiful panorama. Bali Quad Bike Adventure Tour will take you to an amazing experience. Drive in all terrain vehicles (quad bikes). With long and challenging tracks along rice fields, forests, rivers and traditional Balinese villages that are not monotonous. Of course it is very safe and suitable for beginners and professionals.
Bali Quad Bike Adventure Tour Price
Bali Quad Bike Adventure tour provides prices including transport and lunch. Not need to pay extra for transport from the hotel or return to your hotel. Of course we provide the cheapest price among other quad bike agents. Bali Quad Bike Adventure Tour price provides the lowest price guarantee. But at a low price from us, it certainly won't reduce the best service of this adventure. Comfort and satisfaction in the adventure of Bali Quad Bike adventure tour is our priority.
Accompanied by professional local guides. Before the adventure starts, your guide will give a brief and complete guide, about safety and how to ride a quad bike. Come join with us, it's time for you to try our challenging track to spoil your adrenaline. Return to nature and have fun. You will not regret and forget that experience.
Things to get in Bali Quad Bike Adventure Tour
A natural track with an authentic rural atmosphere, and a green panorama.
The condition of all Quad bikes is good with good care.
The cheaper price guarantee with the best service
A professional and friendly adventure guide
Full insurance, which of course your adventure trip is more comfortable and safer accompanied by a guide
Feel the atmosphere of a forest with fresh and clean air away from pollution.
Playing in a mud puddle
Free hotel transfer – Private Car with friendly driver
What do you need to bring?
Additional clothes, because on the last trip we invited you to join playing mud, it'll make you have more fun after the jungle treck.
Sun Cream, the weather in Bali lately is rather hot, sun cream is the best solution for your skin
Additional money, Quad Bike ride is rather tiring, so we provide cold drinks at the rest point, of course you have to spend a little money on your small expenses.