Bali ATV Ride Peliatan Ubud – Bali Quad Bike Waterfall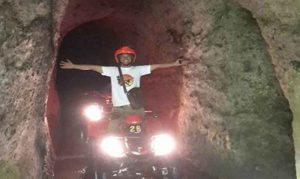 Bali ATV Ride Peliatan Ubud is the best nature atv ride place in Peliatan,Ubud, Bali.  Which has a special track for an ATV quad bike adventure trip. Combining rice fields, ravines, plantations, rivers, waterfalls and trails in the cave. Making Bali ATV ride Peliatan ubud most different among the providers of ATV adventure in Bali.
Located north of Ubud, far from the crowds, making this track truly natural. Good quad bike condition, a professional adventure guide, challenging and natural track is one of the advantages of Bali at the Peliatan ubud ride.
With a natural atmosphere and far from the hustle and bustle, you will enjoy more adventures in every challenge provided in Bali at Peliatan Ubud. of course with the supervision of your quad bike guide. Bali ATV Ride adventure trip takes around 2 hours through the beauty of green nature, waterfalls, rivers, forests, rice fields and caves.
Maybe interest with " Bali quad biking on the beach "
Things to get in Bali ATV Ride Peliatan Ubud
Natural track trajectory with an authentic rural atmosphere, and a green panorama.
A good motorbike with good care.
Professional adventure guide
Full insurance, which of course your adventure trip is more comfortable and safer with your guide
Passing under a natural waterfall (rainy season the volume of water gets bigger)
Passing in a cave that is quite skipped by a bike.
Safety tip for Bali Quad Biking :
All motors are semi-automatic, all activities are in hand, starting from the starter, accelerator and brakes on the motorcycle handlebars.
Following all the instructions from your guide is important in your new adventure.
Use safety equipment before riding a quad bike.
Driving is not expected at high speed, because the track is always different.
What do you need to bring?
Additional clothes, because on the last trip we invited you to join playing mud, it'll make you have more fun after the jungle treck.
Sun Cream, the weather in Bali lately is rather hot, sun cream is the best solution for your skin
Additional money, Quad Bike ride is rather tiring, so we provide cold drinks at the rest point, of course you have to spend a little money on your small expenses.
Camera, it is possible, because we give you opportunity to take photo on your journey.