ATV Quad Bike Riding Bali – Ride with $40/person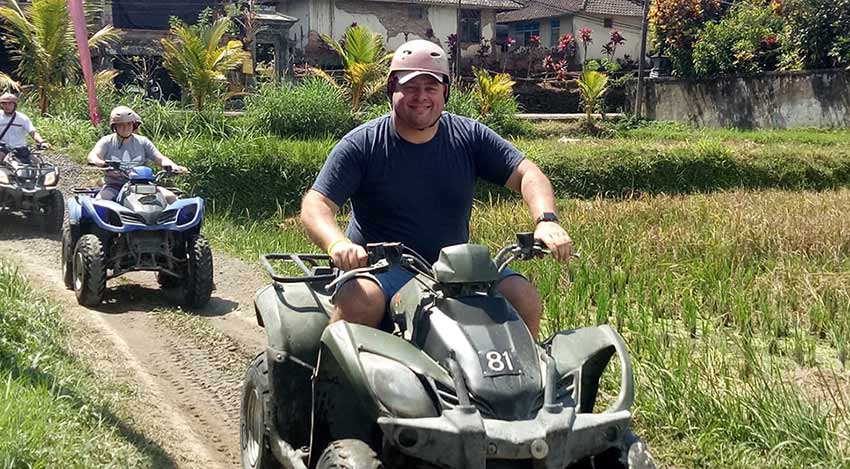 ATV Quad Bike Riding Bali is one of the tourist activities in Bali, where you can explore Bali on a 4 wheel motorbike. We are a ATV quad bike service company in Bali that has a different adventurous path than other ATV companies. Because only with BALI QUAD BIKING you can find the sensation of adventure in the middle of plantations and natural forests. With three different locations, each location has a different track length. Then the places that are passed are very awesome, it will make your quad bike adventure more challenging and exciting.
Discover and explore Bali in a different way with us. Choose our adventure location according to your interests and attractiveness. Please read the information about the three adventure places we have before you make booking :
1. The longest track goes through tropical rainforests, plantations, rivers, hills with green views and valleys. with mud pools as the last track that will make your adventure day more enjoyable. please read about our longest quad bike ATV track.
2. The second track in a different location, where we will invite you along a valley full of green trees. And also you can drive a quad bike through a 20 meters long tunnel. Then no less amazing is to cross under the waterfall, this is a mainstay for our tracks. please read the track through the tunnel and waterfall
3. The third track we have is a flat track with a wide paddy field with a portion of the track on black sand on the beach.
Here you can drive your quad bike at a relaxed and fast pace.
please read the ATV quad bike on the sand beach
The facilities and advantages we provide for ATV Quad Bike Riding Bali
Free private hotel transfers
Awesome ATV Quad Bike treck
Welcome drink and Lunch
Locker and boots
Special rate for group booking
Full personal insurance
let's run your adrenaline with us, BALI QUAD BIKING, find your dream path along with us, we guarantee your adventure will be the most special in your holiday in Bali.
FOR LAST MINUTE Booking
, please send your request via
WhatsApp/Viber/line: +62 81236194398
 Or send us a E-mail :
[email protected]